The most vital element of digital transformation is, ironically, human transformation. Of course, delivering more compelling, more interconnected, and just all around more applications faster than ever requires a high degree of automation. But delivering digital experiences that truly matter to your business and its customers? You simply can't do that without effective leadership, collaboration, and strategy. And that's where the human element of DevOps is absolutely essential.
We are constantly upgrading our technology stacks, but what about our people? What skills are most important for enterprise DevOps success today — and what's the best way to develop these skills amidst the constant pressure to deliver more, better, and faster?
That's exactly what the 2021 Enterprise DevOps Skills Report is designed to answer. The humans behind the DevOps Institute — dedicated to advancing the human elements of DevOps — surveyed and interviewed over 2,000 IT professionals worldwide to discover the latest enterprise DevOps upskilling trends, best practices, and business impacts.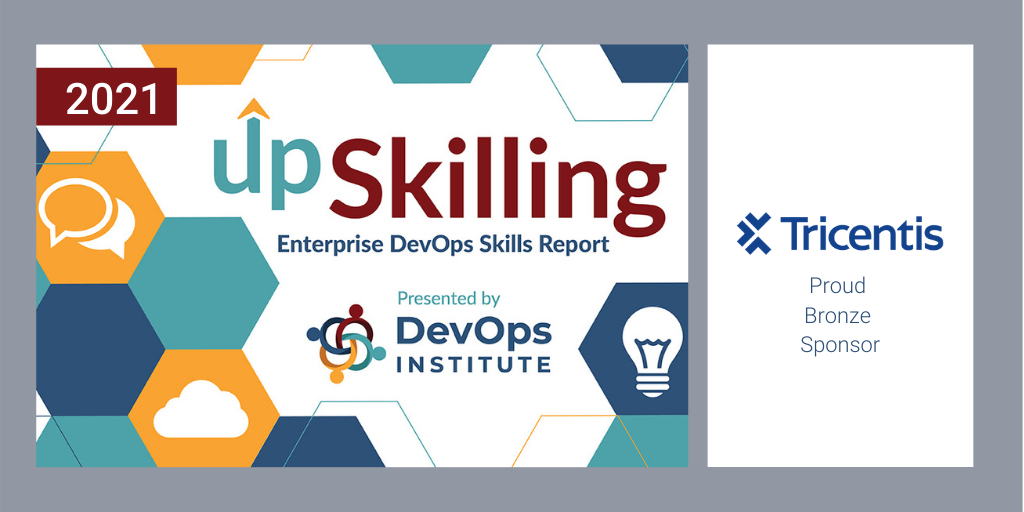 We highly encourage you to read the complete 66-page report, courtesy of Tricentis. It provides an in-depth look at a number of topics that will pique the interest of DevOps and IT professionals:
Leading process, framework, and interpersonal skills for successful transformation
How to keep skills aligned with innovation and shifting business demands
Strategies for influencing change in a diverse, cross-functional group
[Download the complete report]
Here are 3 takeaways that we thought were particularly interesting for QA professionals:
Change remains hard, even for motivated disruptors and first-mover DevOps teams
Any QA leader who's been brave enough to drive a testing transformation knows that it often seems like an uphill battle. This study pinpoints four key reasons why getting the team where they really need to be requires so much blood, sweat, and tears:
Structural barriers within the organization, including anxious middle management standing between ideas and execution, pathologically siloed organizational structures, and the lack of senior-level executives ready to lead digital disruption.
Cultural inhibitors to innovation, such as not having the right talent, aversion to risk taking, comfort in deep-seated habits, and painful memories of past failures.
Complex processes with many dependencies and constituencies, especially those that prioritize internal operations vs. business outcomes, depend on bureaucratic budget and approval processes, and gauge their success with internal (team) focused metrics vs. metrics that speak to broader business value.
Technology challenges, like tool proliferation, having the wrong tools for the team's skillset, and not having the support required to maximize success with the selected tools.
Assess both capabilities and skills to understand where you stand — and how to move forward
A critical step for moving past these challenges is assessing which capabilities the team can perform across key areas as well as what skills the team needs to reach your goals.
The 5 core capabilities are:
Human aspects
Processes and frameworks
Functional composition
Intelligent automation
Technology ecosystems
For the skill component of the assessment, consider:
Human skills
Process and framework skills
Functional skills
Automation skills (including skill with automation tools)
Technical skills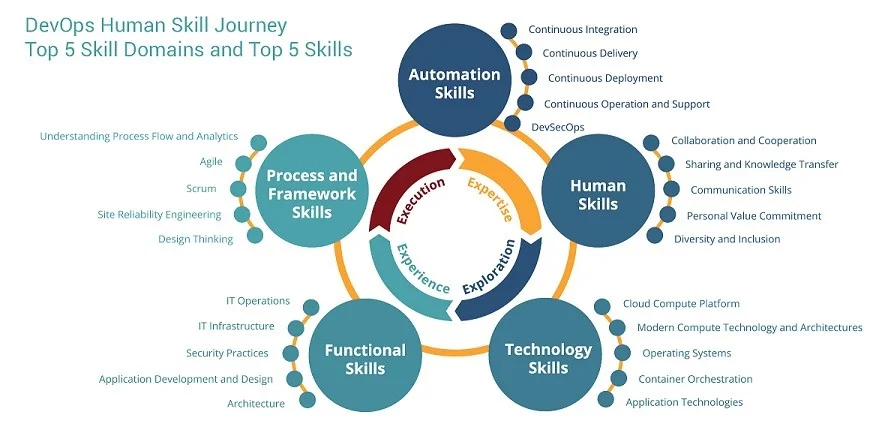 Tip: DevOps Institute can guide you through these assessments from a DevOps perspective. And Tricentis now offers a self-service assessment of your testing and quality processes (as well as guided assessments with our Customer Success experts).
Automation skills and human skills go hand-in-hand as the top "must-haves"
Not surprisingly, automation and human skills took the #1 and #2 spots across all DevOps domains (72% vs. 69% — so let's call it a tie).
It's not easy to master test automation, but it's usually clear where to start, given the tools you're using, the nature of your application stack, and what your organization is expecting in terms of testing outcomes and quality reporting. But where do you even begin if you want to take human skills to the next level?
To start, focus on what's most critical. The report sheds light on what IT leaders consider to be the most important human skills: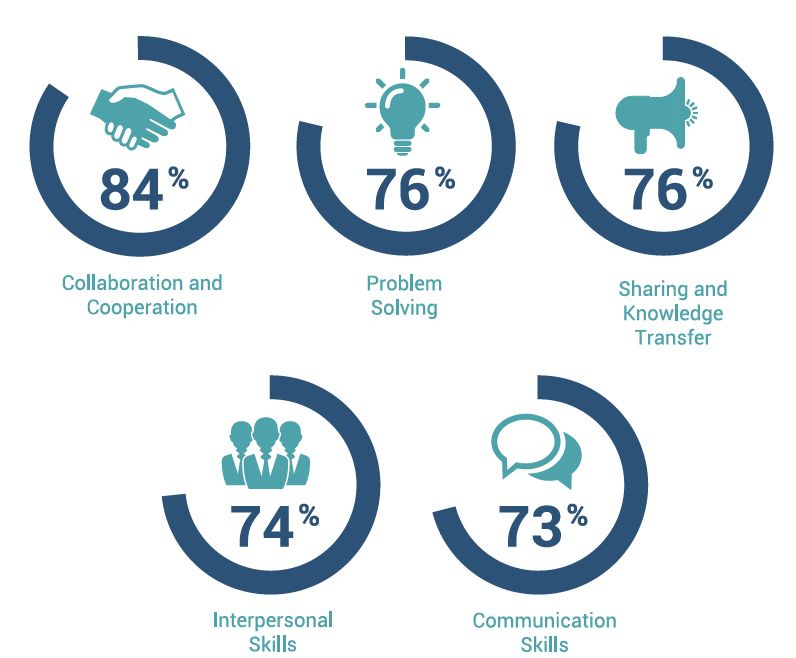 So how do you increase skills across these and other domains? Consider a few stats from the report:
64% of the IT leaders surveyed report having difficulty finding appropriately skilled people
Less than half have an internal upskilling program for developing their existing employees
Over the next 5 years, DevOps skills are projected to grow 122%, making DevOps one of the fastest-growing skills in the world
Together, these data points suggest that there's a tremendous opportunity — and benefit — in building and expanding ways to help existing employees grow into new roles and master new skills…both human and automation.
[Read the complete report for more findings and upskilling strategies]
Bonus 1: The human side of DevOps
Take a front-row seat as a panel of DevOps and transformation experts discuss the essential ingredients necessary to upskill for the next normal in enterprise DevOps.
Bonus 2: The decade of the DevOps human
Catch Jayne Groll's deep dive into the new paradigm of the DevOps human, including how "test-driven everything" is changing the skills and cultural landscape for development, operations, security, and reliability roles.