Tricentis NeoLoad, the market-leading continuous performance testing solution, has just released version 7.10.
What's new in this release?
The release of Tricentis NeoLoad 7.10 brings native integration between NeoLoad and Tricentis qTest, improves real-time collaboration with new dashboard notifications, enhances the NeoLoad-Tosca integration, and introduces new licensing for testing Citrix-virtualized applications.
The highlights in a nutshell:
Native Tricentis qTest integration for unified test management
NeoLoad now natively integrates with Tricentis qTest (for test management) so you can manage your entire test suite from one view for unified test management.
Nowadays more QA/testing and developer teams are opening up their testing processes to managers and other business stakeholders by tracking functional and performance requirements, manual and automated test cases, test coverage, test results, and other test metrics. Having all this data in a single solution empowers everyone — technical and non-technical stakeholders alike — to have shared visibility into the quality of their releases.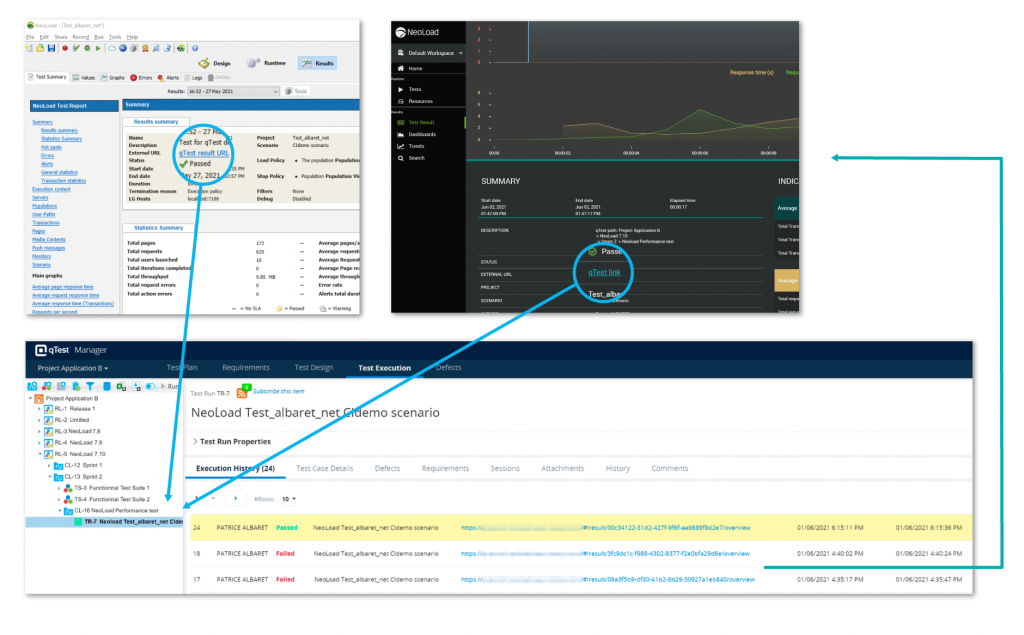 You can now view performance test results and status side-by-side with functional test results for full-visibility analysis.
Performance test results, SLAs statuses, and reports of automated performance regression tests from a CI pipeline or from manual large end-to-end release integration tests will appear in qTest projects alongside functional test suites.
You'll now be able to navigate between qTest and NeoLoad test results easily for analysis — your management statistics will now encompass performance tests.
Dashboard notifications
Auto-notifications make real-time collaboration more efficient and effective. When users are modifying the same dashboard concurrently, NeoLoad sends a notification to those users that an update is necessary. Also, the dashboards view now shows the username and time stamp of who last edited it and when.
Data sharing
You can export the content of the table displayed in the values tab to a CSV file.
Enhanced Tricentis Tosca integration
NeoLoad's native integration is now compatible with Tosca 14.2, which supports testing SAP GUI 7.70. Plus, when repurposing Tosca SAP GUI functional tests as NeoLoad performance tests, the integration now automatically creates a NeoLoad transaction for each Tosca test case, making both design and analysis easier in NeoLoad.
Simplified Citrix licensing
Citrix licensing in NeoLoad has changed. Now licenses to test Citrix are included in the web VU licenses, and Citrix specific licenses are no longer required and will not work for Citrix-virtualized application testing. NeoLoad 7.10 requires the installation of a new license key to test Citrix, which has been generated in your customer area. Simply use Web VUs to test Citrix with this new key.
Other enhancements
Additional enhancements (GitHub authentication, encoding for framework parameters, Java 11, access token security, admin visibility) may be reviewed in the Release Notes.