We are excited to announce the release of NeoLoad 9.1. Along with enhancements to RealBrowser for browser-based testing (read the NeoLoad 9.0 release blog for more information on RealBrowser), we are also bringing you additional functionality to further increase NeoLoad's value.
Datadog integration and observability
Performance testing and application performance monitoring tools can be extremely powerful, but for true enterprise performance maturity it's crucial to leverage both together. This means removing manual reporting between tools and teams, streamlining processes across performance initiatives, and increasing collaboration across solutions to better support application performance.
With NeoLoad 9.1, users can now utilize a bi-directional integration to create NeoLoad monitors from Datadog dashboards, as well as push NeoLoad performance metrics into the Datadog observability platform. With this integration, you'll have a more connected and complete view of the full performance picture, from testing to monitoring. This allows various teams across the performance lifecycle to work within their preferred tool without needing to access others for critical performance data.
RealBrowser enhancement: Requests and Actions analysis granularity
Finding the culprits behind performance issues at a high level can be challenging. This can hold true in browser-based performance tests when trying to distinguish whether the issues lie with Actions or Requests. It's important to accurately identify; Requests reflect the time elapsed from the request start to the response end for each http request captured throughout the user path, whereas Actions reflect the time elapsed while performing browser actions, as perceived by users.
We've spent years honing in-depth analytics capabilities in NeoLoad at the protocol level, and we've extended that same level of knowledge and advanced analytics features to browser-based testing. Users can now improve clarity by adding commands in their browser-based testing in RealBrowser, thus drilling down more easily into Actions and Requests — with additional granularity to identify where the performance issue is occurring. In addition, Actions are also now searchable via a drop-down filter in NeoLoad Web.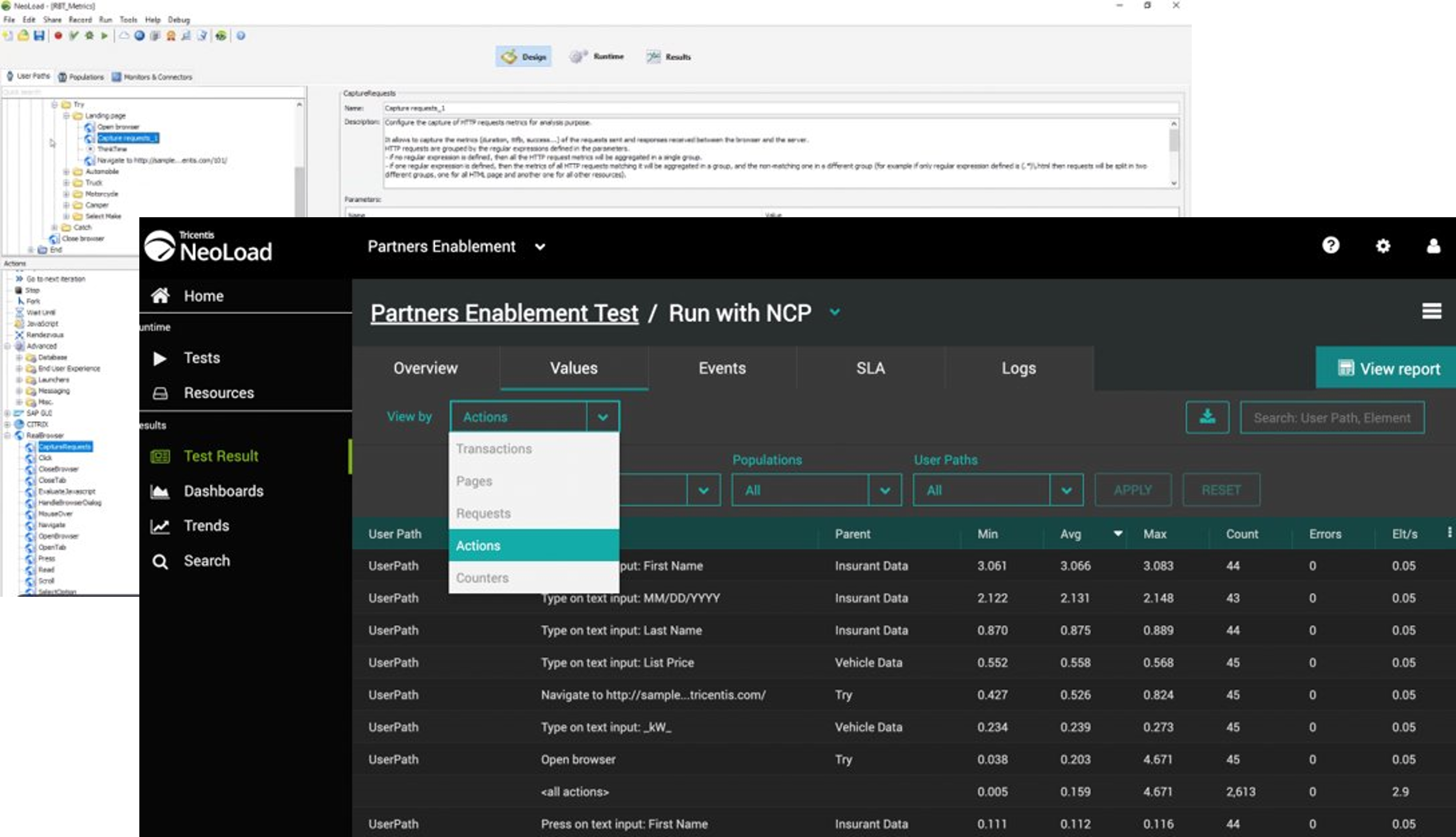 NeoLoad cloud platform support for RealBrowser
Browser-based virtual users (VUs) are larger and consume more memory/CPU resources than standard protocol VUs, which can have infrastructure implications for users running higher-volume browser-based tests. For those clients, we now fully support cloud-based load generation for RealBrowser tests and expanded multi-zone availability, eliminating the need for customers to tax internal resources or manage on-premises load generation infrastructure.
However, for those who do choose to run browser-based tests on-premises, RealBrowser is built on modern technology and is roughly 30% more CPU- and resource-efficient than other legacy browser-based testing tools, reducing internal infrastructure strain for higher-volume on-premises testing.
Enhanced packaged app support in RealBrowser for React/Javascript, Fiori, and Salesforce
We continue to develop packaged app support for complex web applications and browser-based testing. These enhancements enable improved reliability and scope of RealBrowser performance execution and results, as well as design simplification by utilizing pre-built selectors for the application under test. Enhancements for packaged apps in the 9.1 release include React/Javascript frameworks, Fiori, and Salesforce.
If you would like to try our latest version of NeoLoad, sign up for a free 14-day trial.