The Tricentis September release includes some exciting updates across the Tricentis platform, including a public preview of Tricentis' AI engine, code named Project NEO, as well as a number of new capabilities that simplify SAP testing and extended language support for the Tricentis Automation Recording Assistant.
Project NEO now available as a Public Preview
With Project NEO, Tricentis introduces the next generation of test automation: an AI test execution engine that allows you to automate UI test cases based on a mockup, before any code is written – enabling you to test much earlier in the development lifecycle. This first-of-its-kind technology is our solution to the constant pressure on Agile and DevOps teams to extend test automation to support a rapid explosion of new applications and technologies. Because NEO does not rely on an application's underlying technology to create test cases, you can use it to test virtually any application, regardless of your level of technical understanding.
Key benefits include:
Support application modernization: Create automated tests that will work for yesterdays, today's, and tomorrow's technologies – instead of having to rebuild them each time the technology evolves.
Automate tests for virtual applications: Automate testing for applications running on Citrix, VMware, etc.
Test before you code: Shift testing left by automating tests based on mockups and simple descriptions.
Go from QA engineer to AI expert: Project NEO requires no code and very little technical skill to use, opening the door for testers and business users to rapidly upskill and become AI-powered test automation experts.
Until now, Project Neo has been in a closed beta. Our Public Preview is the next step toward general availability and opens the door to any customer using Tosca 13.4 to try out Project Neo.
Tosca SAP engine extends support to SuccessFactors, Fiori 1.78, and emulated tables
We continue to simplify SAP testing with each release. This month, we've introduced enhancements to Tricentis Tosca's SAP testing engine to include support for testing SAP SuccessFactors and SAP Fiori 1.78, and emulated tables.
As of this release, Tosca now fully supports SAP SuccessFactors testing. This means that you can fully automate SuccessFactors test cases while ditching the workarounds and other customizations — leading to faster and higher quality SAP updates and releases.
SAP updates SAP Fiori on a regular basis, and we want to make sure that you can keep up when it comes to testing. That's why we have added additional support for the latest SAP Fiori version, 1.78, allowing you to efficiently build stable, automated test cases ifor the latest version.
While Tosca offers the industry's best SAP testing, there are still certain emulated tables that our T-Box engine doesn't support right out of the box. To make testing these emulated tables easier, we have created an emulated table wizard. Using this wizard, customers can now easily define exactly what is in the emulated SAP table under test, helping the Tosca engine to better create more comprehensive automated test cases for your SAP environments.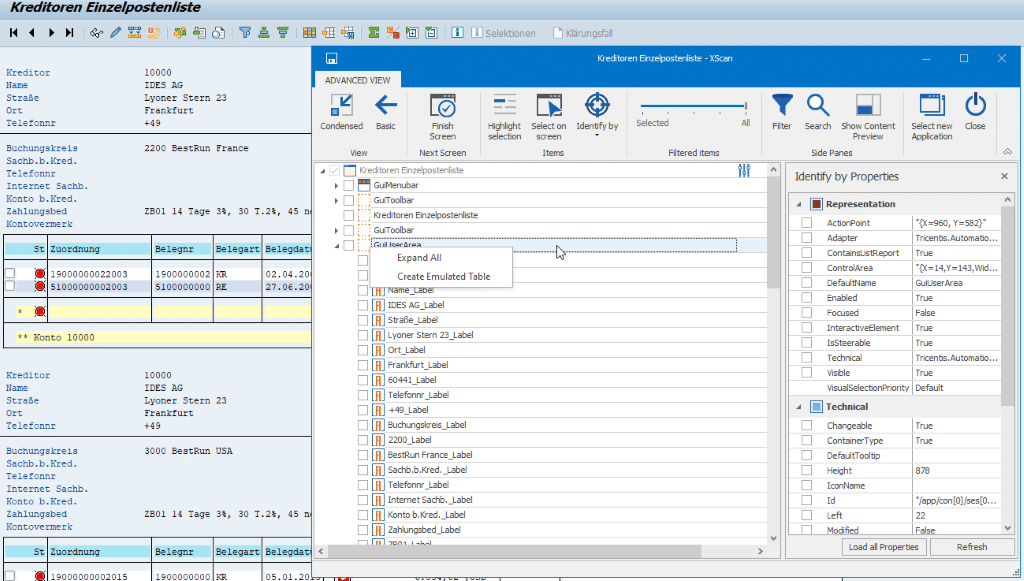 Tricentis ARA now supports 8 languages