With the latest 2.19 Tricentis Test Automation for ServiceNow release, the entire platform has many enhancements that focus on making it even faster to generate test cases, execute tests easier, and improve the developer's workflow for ServiceNow testing:
Completely redesigned and expanded Case Creator – In addition to simplifying the workflow of the feature we are adding additional coverage for scripted configuration types in ServiceNow and new types of tests that can be generated
Server enhancements – We are rolling out new metrics in the app to better manage servers and adding new features on the server itself to improve error handling and updates
Improved Developer Workflow – Application, Recorder, and mini are getting additional features to make developing and organizing tests even easier
A more powerful case creator
Better coverage, decreasing test development time up to 70%
Tricentis Case Creator allows you to instantly generate test cases directly from your platform configurations. Our new and improved case creator is more intuitive than ever! We wanted to simplify the creation of tests with real data. Now, you can create hundreds of ServiceNow test cases for unit and acceptance tests directly from workflows, catalog item requests, and records.
Testing the entire flows of applications is critical. With every case, Tricentis looks at the source and pulls the end-to-end test from the existing data. If you're developing a catalog item, you'll have a workflow associated with it. Use Case Creator to generate the end-to-end tests from request through the fulfillment of the workflow right from your test data! As you create or modify an application, you can use Case Creator to generate the test to validate that workflow.
That's not all! If you're trying to validate individual components of ServiceNow, you can create unit test cases from application configuration or catalog item definition too! If you have thousands of catalog items that you prefer not to spend days writing test cases for, you can select the test type and point to the catalog item to create test scripts in bulk. Or use Case Creator to generate a test case for every configuration that's a part of an application. Ultimately, easily create tests in seconds for business rules, client scripts, UI policies, UI actions, form layouts, and more with just a few clicks of a button.
Server enhancements
Capture reporting errors and metrics easier
We've listened to our customers who mentioned some errors were not getting reported and we changed that. Now, you have better handling of additional errors as we added more metrics for you to track, and improved the handling of servers. Tricentis now has more intuitive error capturing, time out errors, details at the suite level, and validations to confirm data syntax is correct. The latest release also includes full reporting of timing metrics for ServiceNow test cases and suites. This provides the ability to predict how long a test would take to run along with the actual test run duration.
If you're familiar with ServiceNow test development, you know that some tests may be long with a high number of test steps. So, we added the ability to execute a test or resume a test at a specific point or step. Let's say you're developing a workflow for change request that's long and complex with over fifty steps. You've validated that test steps 1-30 are working as expected and only need to test steps 31-50. You now have the ability to test from that certain point and not have to wait and re-run the entire workflow from step 1. This will accelerate development time, so you don't have to wait for test steps that you know are passing and focus on the parts that need work.
Improved developer workflow
Work smarter using shortcuts without compromising quality
We understand that certain tasks within ServiceNow can be mundane and that's why we've introduced several shortcuts across the solution to make test development easier and faster. Application, Recorder, and mini are getting additional features to make developing and organizing tests even easier. We've added new ways to execute tests through shortcuts such as run selected and run from the cursor while saving the context with every test run.
We've rolled out templates and the ability to convert a test case to a template and link the two. Let's say you're developing tests for multiple workflows with similar steps, you can convert the case into a template to reuse. With a click of a button it will convert the case into a template, so you no longer need to copy, paste, and edit. You can then use that template as a foundation for the next case and modify it from there. This simplifies the maintenance of tests because once you've linked a case to a template, you only need to modify the template to update all the associated cases.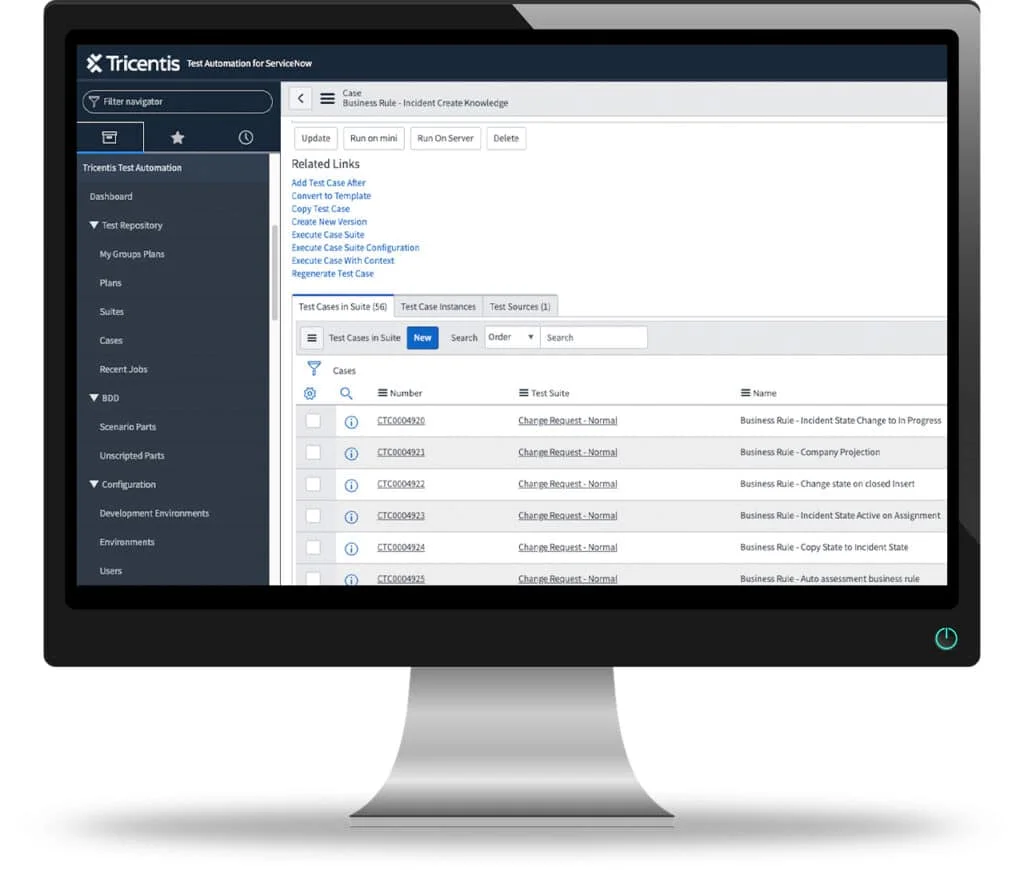 Tricentis Test Automation for ServiceNow 2.19 release truly allows the user to create tests faster and work more efficiently. With over 12 years of ServiceNow expertise, we understand the mindset of testing ServiceNow and provide the path towards automation. If you're interested in learning more, let's discuss the many ways Tricentis can help you accelerate your ServiceNow deployments with 40X faster testing. Reach out for a personalized demo with one of our ServiceNow experts today!