2020 has been a busy year for the Tricentis Tosca team! In our last release, we introduced several key enhancements across the Tosca landscape. This May delivers new features like select-on-screen for mobile automation, self RDP for Distributed Execution (DEX), JSON imports for Test Data Service (TDS), and many more. Keep reading for an overview of the major May 2020 highlights. For more in-depth technical updates, check out the release notes.
Tosca server speed gets a boost
Test faster with a more nimble DEX agent
Tosca's distributed execution boosts performance and enabling test automation to scale to the enterprise level. With this release, we have given your distributed execution a boost with our new self-RDP capability.
Historically, the central RDP repository could slow down when under extremely high resource demand. We have responded by giving DEX agents the ability to independently open their own RDP sessions. This eliminates any delays due to a bogged-down central server.
Tricentis User Administration gets a redesign, SSO support, and more
Our Tricentis User Administration capability brings all of your Tosca administration into one central place, making administrators' lives easier and business processes happen faster. This release improves the administration experience with a redesigned UI and adds additional controls with SSO and PostgreSQL support, as well as enhanced password policy.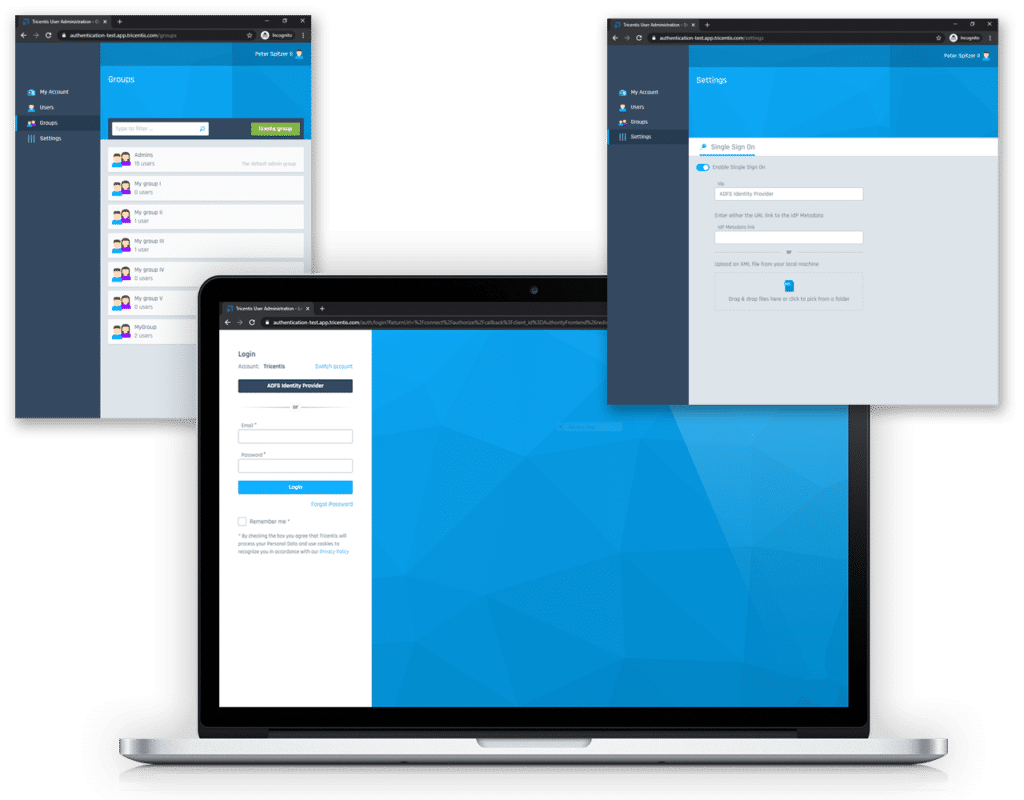 The new UI is easier to use, offers more meaningful information in more intuitive places, and provides more feedback in the event of an error. This means less time fixing and preventing mistakes, and more time delivering high-quality releases.
SSO integration + PostgreSQL support
In addition to the UI redesign, we have broadened Tosca authentication support to include SSO. This is in addition to Tosca's existing Active Directory integration and native user authentication capabilities.
Adding SSO support gives you the flexibility to use your own Identity Provider (IdP) to authenticate users, streamlining access for users and simplifying access fora administrators. Any IdP that implements SAML 2.0 can be integrated with Tricentis User Administration.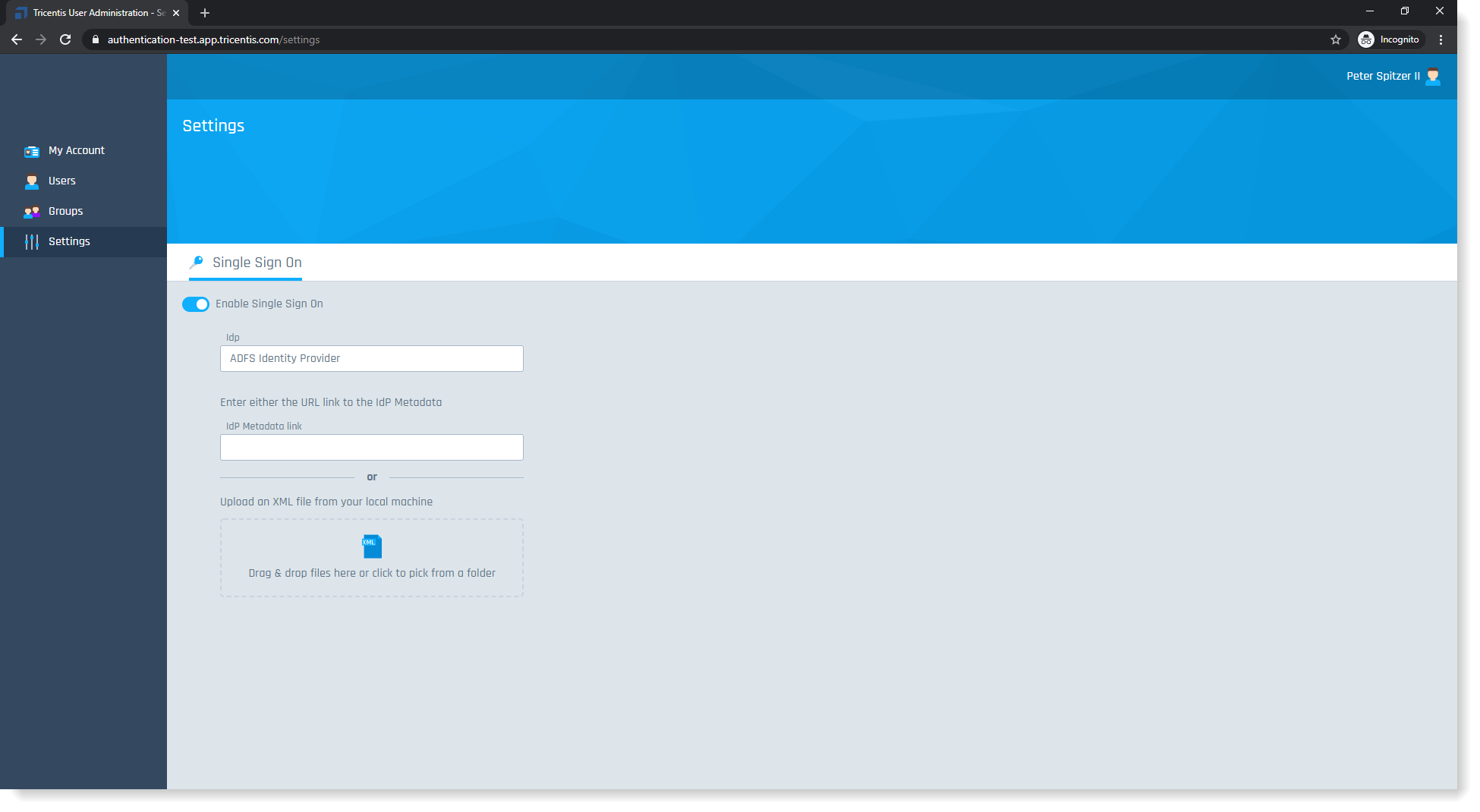 In addition to SSO, we have also added support for PostgreSQL. This significant enhancement gives opens up Tricentis User Administration to anybody who is using a PostgreSQL database, making our centralized administration even more flexible and enterprise-friendly.
Better password handling
Passwords are one of the building blocks of healthy security, and it's important that administrators best be able to handle password policy for their users, especially in enterprise situations where many different users are involved. In our last release, we introduced the first steps toward enabling administrators to define password policies for native users. This included features like:
password complexity
login retries before lock-out
We've added another feature in the May release: password lifespan. Now, administrators can better handle their passwords by defining the password expiration period, after which the user must reset their password. This capability gives Tricentis administrators an extra tool for ensuring the security of their applications and users.
TDS makes importing easier
We know that test data is crucial to your enterprise testing and automation efforts. In this release, we are making it easier for you to manage test data with an enhanced import process and UI + UX updates.
Importing JSON files saves time and effort
Testers spend up to 70% of their time retrieving test data. This takes away valuable time from actually testing, but this can be changed. After all, a large part of this data is simple. We believe that provisioning simple data should be easy.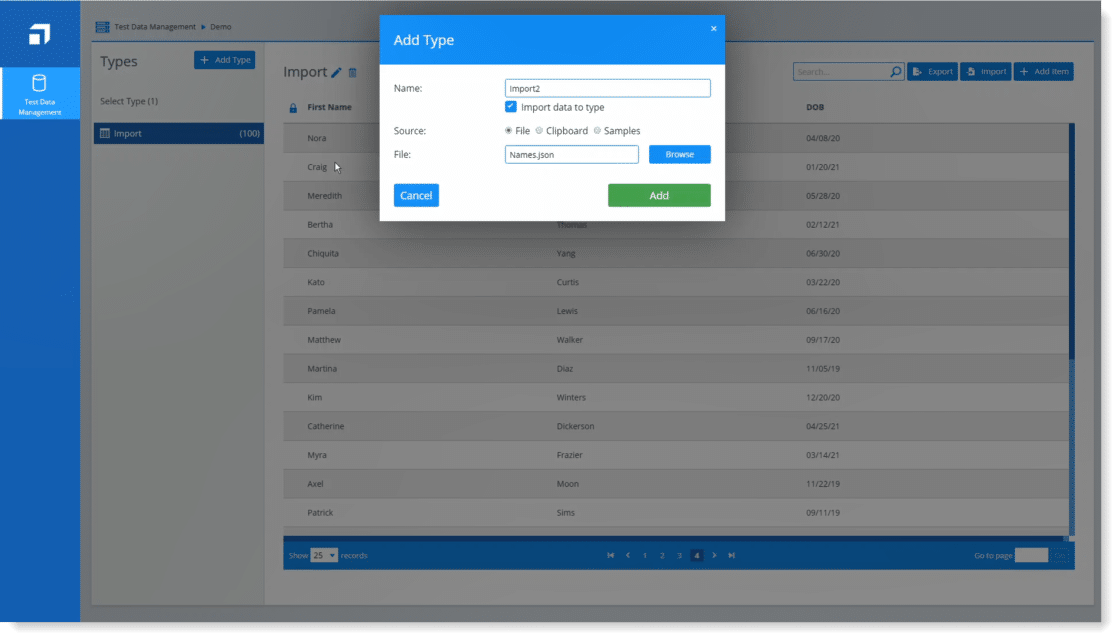 That's why we added two new data-import capabilities into TDS: our multirecord JSON file import and an import via clipboard capability. The ability to quickly import JSON files and/or import crucial data with a simple copy-and-paste frees up time for your test automation engineers to do what they do best: automating and innovating.
Making the TDS UI and UX work better for testing teams
We've heard your feedback, and we've delivered.
In recent versions of TDS, we added several new capabilities that help you work with test data through the TDS web UI. But we didn't stop there. We have added several new features to our UI to help make testing faster and more efficient:
Immediate entering into edit mode with a double-click
Ordering of coumns by string value
Distinct scrolling per page
Change number of displayed records per page
Speeding up mobile test automation
Adding simplicity with "select on screen"
Our model-based test automation already provides the industry's best test case automation experience. In particular, the "select-on-screen" functionality makes creating automated test cases much faster. However, this feature had not been available for mobile web pages and hybrid applications. We decided to change that.
With our May 2020 release, get ready to rev up mobile test automation. Now, test automation engineers can use select-on-screen for mobile web pages and hybrid applications, giving mobile testing teams a major speed boost.
Speed changes everything: mobile test automation edition
If you know Tricentis test automation, you know speed. We have always brought a speed-first approach to test automation… and we are making it even faster this May.
We know that fast, accurate testing feedback is one of the main ingredients in an efficient development cycle and a speedy release. Mobile testing, with its complex infrastructure (spanning various operating systems, versions, emulators, real devices, etc.), local and remote execution scenarios can seem like the one area in which this feedback feels neither fast or high-quality.
Organizations that use Tosca can avoid that bottleneck. We have enhanced execution performance and increased test execution speed for native and web applications. We have also improved the execution speed for local, remote and device cloud provider scenarios. If you're interested in numbers, we are seeing overall speed improvements at a rate of 4x!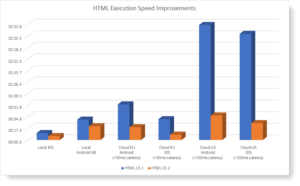 The qTest and Tosca integration gets an improvement
We continue to enhance the qTest and Tosca integration. In our last release, we introduced a more comprehensive test case export process from Tosca to qTest. With this release, we are continuing to make improvements that offer a seamless relationship across your test automation tools and the entire software delivery pipeline.
Improved test case visibility
We received feedback that Tosca users were looking for more visibility into qTest test cases while working from Tosca. With this release, we have added an extra layer of visibility with hyperlinked test cases.
Now, you can right-click on any Tosca test case that has been exported to qTest and see it in qTest. This gives Tosca users gain an extra layer of visibility and makes for faster access to test design and automation.
Export more than before
In addition to the export feature that we introduced in our last release, we now allow Tosca users to export multiple test cases at a time. This means that Tosca users can export an entire list of nested folders and Test cases into qTest so that their Tosca structure will be reflected in qTest.
Wrapping up
Whether its our new self-RDP capability for DEX or our blazing-fast speeds behind mobile test automation, we remain committed to your teams' ability to build fast, resilient test automation.