The Tricentis team is launching our new Tricentis Tosca 8.4 Service Pack 1! For this release, we've enhanced many of the new features from Tricentis Tosca 8.4, but have also included some additional features that make the test automation process more streamlined and intuitive for all users.
X-Browser: Re-scan for UI Tests
Application development for agile teams often moves at a rapid pace, meaning a lot of time and effort is spent re-working and re-creating test cases when only small changes have been made. Our new re-scan for UI tests makes maintaining and updating your test cases incredibly easy.
OSV Recorder
Developing applications can be tedious, especially when it connects to various third party APIs that require lots of time and effort to test. Our Orchestrated Service Virtualization product is able to simulate these APIs and avoid costly test labs. Our new OSV recorder function locates the APIs and records their interactions, creating new scenarios for End-to-end testing. The best part of OSV is that you don't have to be finished with your application in order to test, making it ideal for agile teams to shift testing left on the product cycle.
Mobile+: Responsive Design Tests
Mobile apps are dominating the market and we know it's not easy to keep up with the newest trends and adapt to the latest OS's. The important factor is how customers are using your app, be it tablet or a mobile phone. Responsive design means guaranteeing that your customers get the best out of your application. Our new Responsive Design feature for Tosca Mobile+ ensures just that.
Mobile+: New Scan
For those who have been using Tricentis Tosca for the past year, you are most likely well acquainted with our easy-to-use X-Scan. The X-Scan helps users to scan applications effortlessly and quickly. For Service Pack 1, we've enabled the scanning of Mobile applications, making it easier to detect and build up test cases. Users will be amazed by how simple it is to create test cases from your mobile app.
Migration: Classic HTML to TBox
With TBox, it is very easy to automate all types of applications effortlessly. We encourage our customers to migrate over from the old Classic HTML engine to our new TBox, in order to ensure that you have the fastest test automation out on the market.
Tosca Neoload Integration
Performance Testing isn't something that testers do on their lunch break – although, we're sure they've tried. Tricentis, in collaboration with Neotys, has created a tool that integrates Neoload into Tricentis Tosca. Using Neoload to increase the amount of users consecutively, while Tosca automates each Test case, enables Testers to identify the breaking point for their application and to determine what needs to be tweaked in order to increase the application performance.
Operators on Tbox
Continuing with the theme of usability and user experience, our engineering team has put together the operators function in order to help with the verification process when creating test cases.
API Engine: IBM Websphere MQ Support
Effortlessly send and receive messages from enterprise service bus. Tosca 8.4 SP1 now easily updates your project to the most current version.
Context Sensitive Mini Toolbar
With the release of Tosca 8.4 Service Pack 1, Tricentis has worked hard to make Tricentis Tosca more intuitive and easy to use for all current and future customers. The Context Sensitive Mini Toolbar allows easy access and control to all of your frequently used functions based on the current view.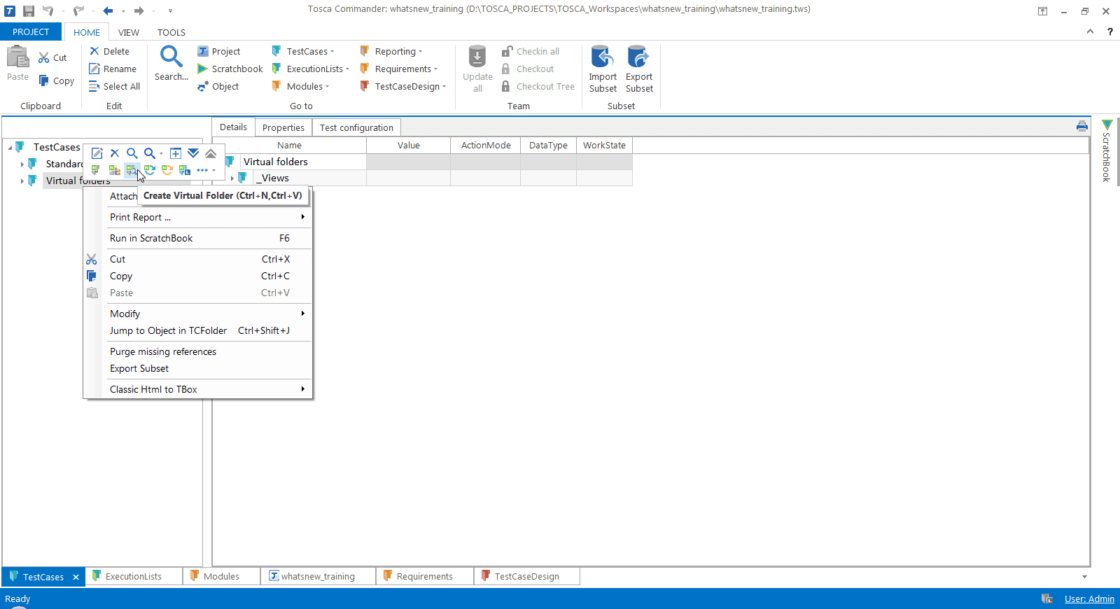 Context Sensitive Help
Help is on the way! If you aren't sure about how to edit your execution list or manage your test steps, Tricentis Tosca now provides an easy help function. Just select an object and press F1, our support portal will pop up to answer any questions you may have at the moment.