As we look back at a very successful 2021, one thing stands out: Last year more than ever, our customers have proven the critical role that continuous testing plays in succeeding with their digital business initiatives, from major cloud migration projects to achieving DevOps transformation. In particular, we've seen how modernizing testing pays dividends when it comes to delivering quality at speed – for both custom-built and packaged applications. By embracing a quality-first mindset, these leading organizations have proven the value of transforming testing, with measurable gains in productivity, customer satisfaction, and business agility.
We've also heard from many more of you who are just getting started on your continuous testing journeys. You've told us that you want to move faster, and that you need more flexible product options that suit your current needs but can scale with you as you grow. And we listened.
In response to this feedback, we're introducing new product editions and pricing across several product lines, including Tricentis qTest, NeoLoad, LiveCompare, and Test Automation for ServiceNow, so that you can choose the option that best meets your needs.
Let's discuss what these new product editions are and how they might benefit you.
Tricentis qTest
Unified test management with qTest is the start of the continuous testing journey for many of our customers. With qTest, it is incredibly easy to organize and manage your test cases, from requirements to production. By integrating with agile planning tools like Jira and Azure DevOps and both open-source and proprietary test automation frameworks and tools, qTest enables agile teams to build and orchestrate end-to-end testing workflows within their CI/CD pipelines.
For 2022, we're introducing two qTest editions:
qTest Pro is designed to help testing teams who primarily use manual testing and who need to increase quality, efficiency, and visibility across multiple projects. The license model is based on named users and an annual subscription, which works best for teams with a fixed number of users. Pricing starts at $1,000 per user, and volume discounts are available.
qTest Enterprise is for companies with more mature test automation and DevOps practices. This edition includes centralized management for test automation, native integration with Jenkins pipelines, and customizable integration and workflow options. qTest Enterprise also includes out-of-the-box and custom reporting options to give you better insights into quality metrics and KPIs. The Enterprise edition is available with concurrent licensing, which is a great model for customers who can't always predict how many users they'll need to support at any given time, or who rely on system integrators and third-party testing services providers. Pricing of qTest Enterprise starts at $2,900 per concurrent user, and volume discounts are available.
Here is a summary of the differences between qTest Pro and Enterprise: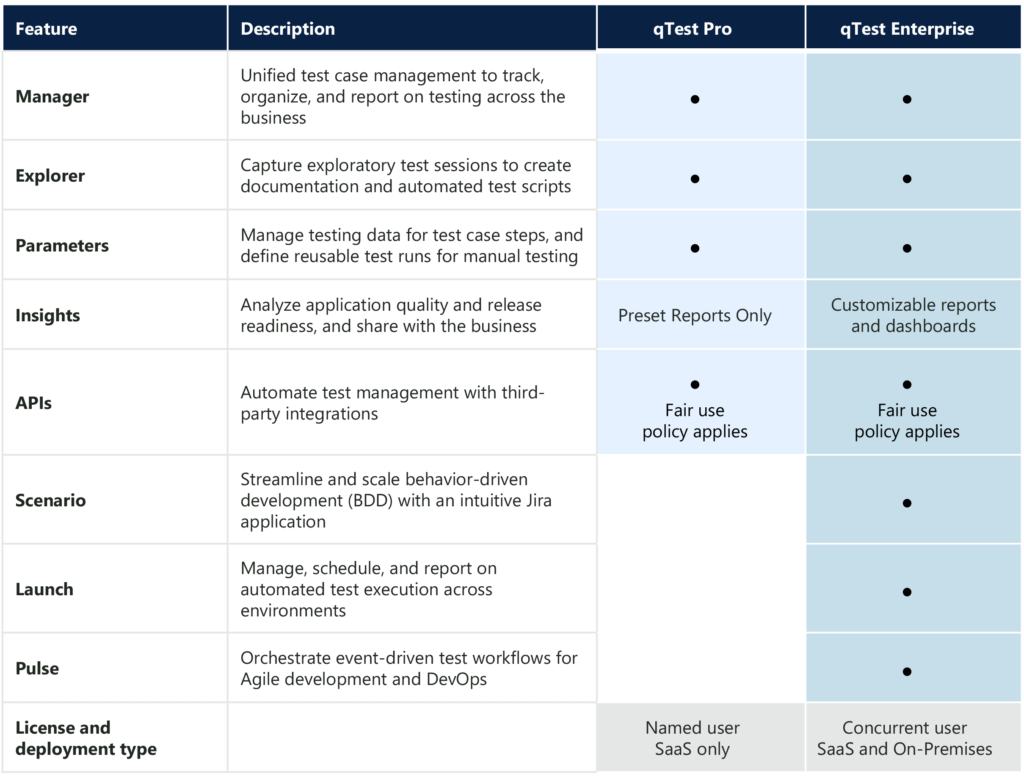 Tricentis NeoLoad
Tricentis NeoLoad simplifies continuous performance and load testing for all use cases, from APIs and microservices to system-wide testing of large-scale enterprise application platforms.
NeoLoad provides testers automated test design and maintenance, the most realistic simulation of user behavior, fast root cause analysis and many integrations with software development and application performance monitoring tools. With NeoLoad 8.0, we've rolled out many new features and enhancements.
Tricentis NeoLoad is now available in three editions:
NeoLoad Essential is for testers who want to ensure that their application will perform at scale. This edition is a great starting point for small teams that are new to performance engineering. It includes a graphical design tool and controls to simplify performance test creation and maintenance. Pricing starts at $20,000, which gives you unlimited load testing for 300 concurrent virtual users. Volume discounts are available for larger VU quantities.
NeoLoad Pro is best for enterprise organizations who want to standardize on a performance engineering solution that supports advanced use cases, development processes and business applications that rely on protocol support for Citrix, Oracle forms, or Java serialization, among others. NeoLoad Pro greatly expands on the Essential feature set with advanced user management, load testing infrastructure and resource management, and root cause analysis features. It also supports cloud-native applications and supports most container and Kubernetes platforms.
NeoLoad Enterprise extends the NeoLoad Pro feature set with support for SAP applications. This edition enables enterprise customers to accelerate SAP S/4 HANA migrations, as well as test ECC updates and other versions where support for the SAP GUI protocol is needed.
Here is a summary of the new NeoLoad editions: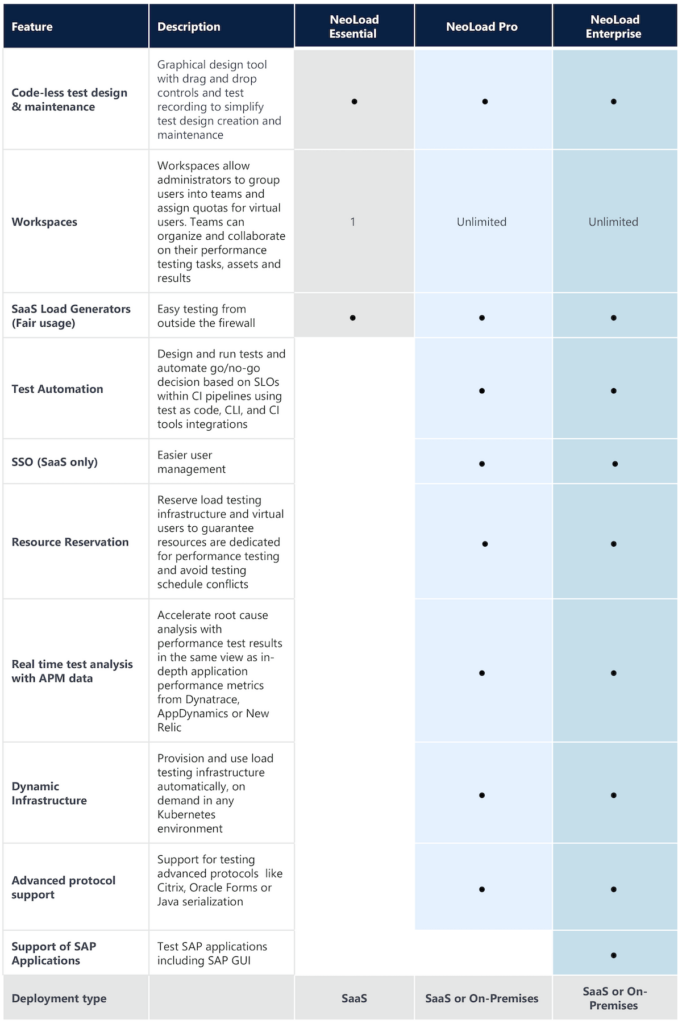 Tricentis LiveCompare
Tricentis LiveCompare provides smart impact analysis for SAP updates, using AI-powered impact analysis to pinpoint exactly what you need to test to ensure zero-defect releases without the need for hypercare. LiveCompare's quick setup, continuous monitoring, and DevOps-friendly features make it SAP's recommended solution for de-risking SAP releases.
While impact analysis answers the question of what to test before you roll out updates, there are many more advanced use cases that development, QA and IT ops teams have. For example, we hear from SAP developers who want to make in-sprint unit testing more efficient increasingly rely on LiveCompare developer impact analysis to make their lives easier.
In order to better support customers with SAP deployments of different sizes and complexities, team structures, or business needs, we're now offering LiveCompare in three editions:
LiveCompare Essential is for SAP customers who want to know exactly what to test to reduce the risk of changes to their SAP environments. LiveCompare is fully integrated with both Tricentis Tosca and qTest to identify matching test cases for regression testing and to pinpoint gaps in your test plan. This edition is designed to help testing teams get started with impact analysis as they transition from manual to automated, continuous testing. Pricing for LiveCompare Essential is $20,000 per instance.
LiveCompare Pro includes all the features of essential edition and adds the ability to automate the discovery, notification, and testing of their SAP changes to minimize business risk. Pricing for LiveCompare Pro is $40,000 per instance.
LiveCompare Enterprise is for SAP customers who want to standardize on an enterprise-wide impact analysis solution to reduce risk across complex, frequently changing SAP landscapes with many SAP systems and versions. Pricing is based on database size, and your account team can provide price quotes that are tailored to your specific organization and business needs.
Here is the summary of how LiveCompare editions compare: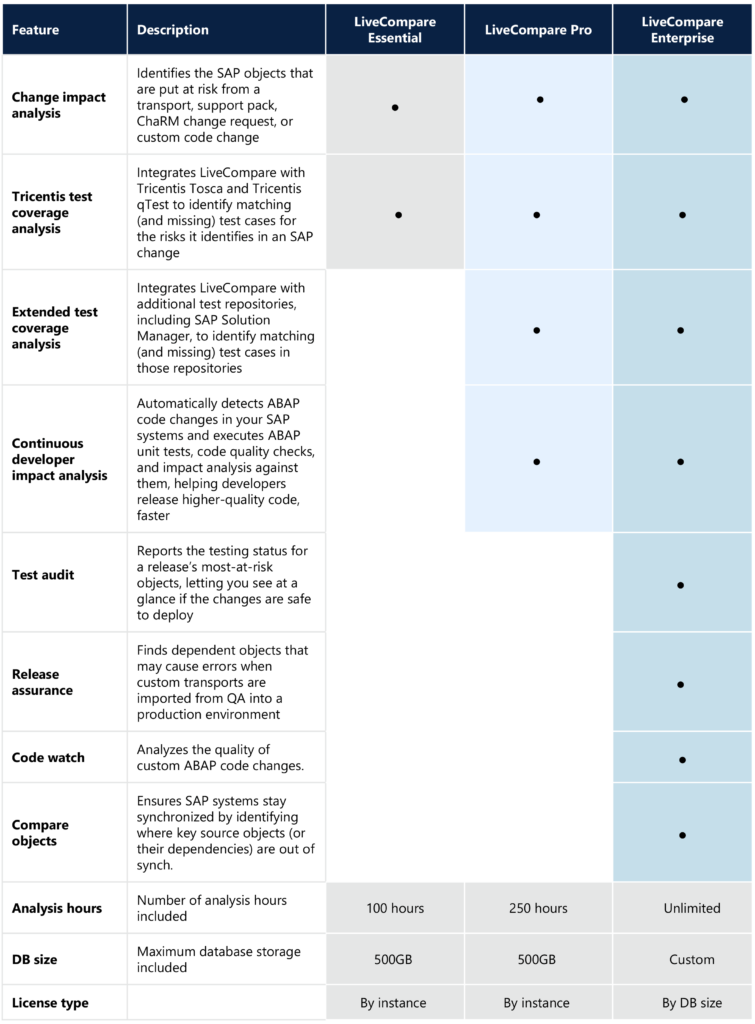 Tricentis Test Automation for ServiceNow
For customers who rely on digital workflows to support their business processes, Tricentis Test Automation (TTA) for ServiceNow addresses several pain points and business needs. Test automation is indispensable for ServiceNow teams that build and deliver workflows and applications on the ServiceNow platform. Our customers achieve 40x faster testing cycles with TTA, which allows them to respond to user requests and business needs much more quickly. But we also hear from platform owners who use TTA to keep up with ServiceNow platform updates that ship twice year, and which require teams to validate all customizations and workflows prior to release.
In response, we are now offering the following two editions of Test Automation for ServiceNow:
Test Automation for ServiceNow Essential is for ServiceNow delivery teams that need to keep up with platform upgrades and who want to verify custom code, service catalog items, applications, and workflows quickly and easily. Pricing starts at $1,200 per named user.
Test Automation for ServiceNow Pro adds many additional capabilities for application teams that need to develop and deploy new code and workflows more quickly by integrating test automation with their DevOps processes. Pricing starts at $3,000 per named user.
Here is how the two editions compare: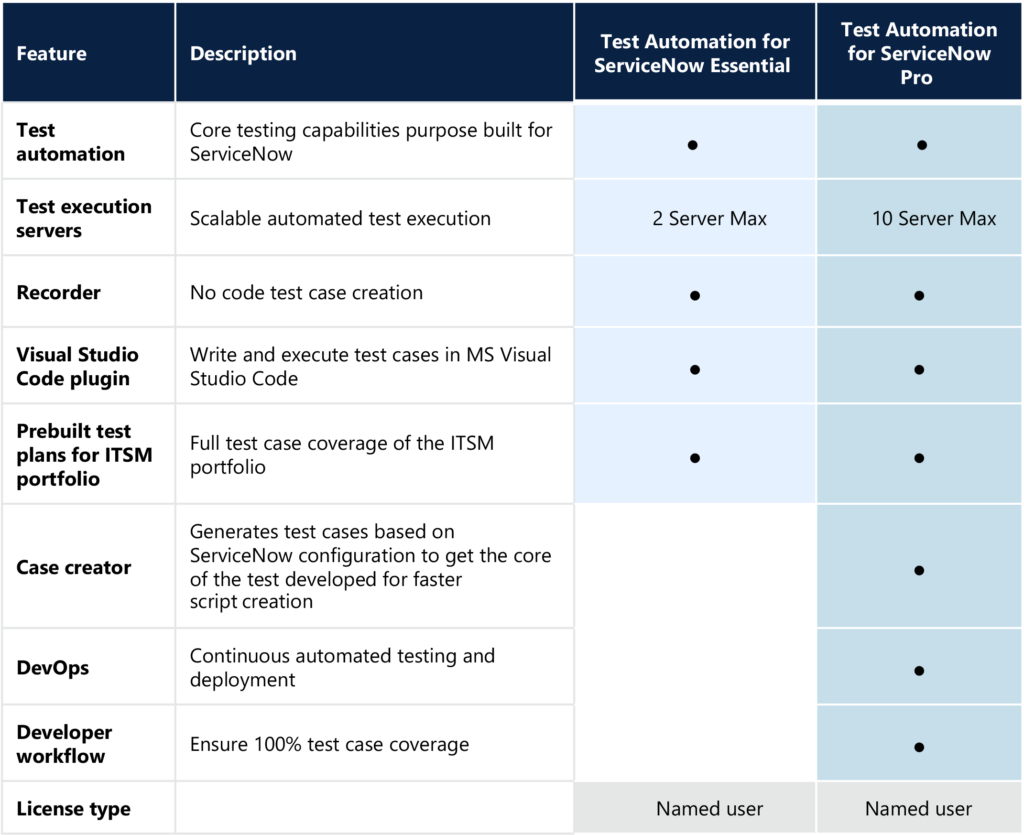 Your feedback matters
Our goal with these new product editions is to reduce obstacles on your testing transformation journey by making continuous test automation more accessible for all different kinds of for software delivery teams. For more details, please review the Licensing and Packaging guide. You can also request product pricing on our demos and trials page. We hope you enjoy these new, more flexible options – and we look forward to your continued feedback.