Note: A version of this post originally appeared on DevOps.com.
This morning, MediaOps launched a new video/podcast series called DevOps Unbound. DevOps Unbound focuses on DevOps, automation, CI/CD, and testing, featuring leaders in these areas as we explore the challenges and issues software delivery and IT teams face every day. How do we go faster, smarter, with better quality? DevOps Unbound!
The series just premiered on our TechStrong.tv streaming network. It is available on LinkedIn Live (on the DevOps.com page), Facebook Live (Devops.com, Container Journal or Security Boulevard pages), YouTube on the DevOpsTV channel, and the MediaOps sites. Additionally, the show is available on demand on our DevOps.com mobile app and our DevOps.com OTT channels on Roku, Apple TV, and Amazon Fire TV. Finally, all episodes will be available on demand on Digital Anarchist, our streaming video platform. The series is sponsored by our friends at Tricentis.
New episodes will run every other week. Also planned is a monthly DevOps Unbound roundtable, open to the public and featuring a revolving panel of experts around a given theme. The first live monthly roundtable will be Aug. 18, around the theme "DevEverythingOps." Roundtable discussions do require registration; you can register for the first event here.
Episode 1: A brief history of testing and how it plays into DevOps
The premiere episode features Dr. Grigori Melnik, CPO of Tricentis, and James Bach, the developer of session-based testing and a highly respected expert in testing. We explore the history of testing and how it has adapted over the years to allow for more automation, help testers and developers be more efficient, and accelerate the software release process.
[Watch the premiere episode on demand]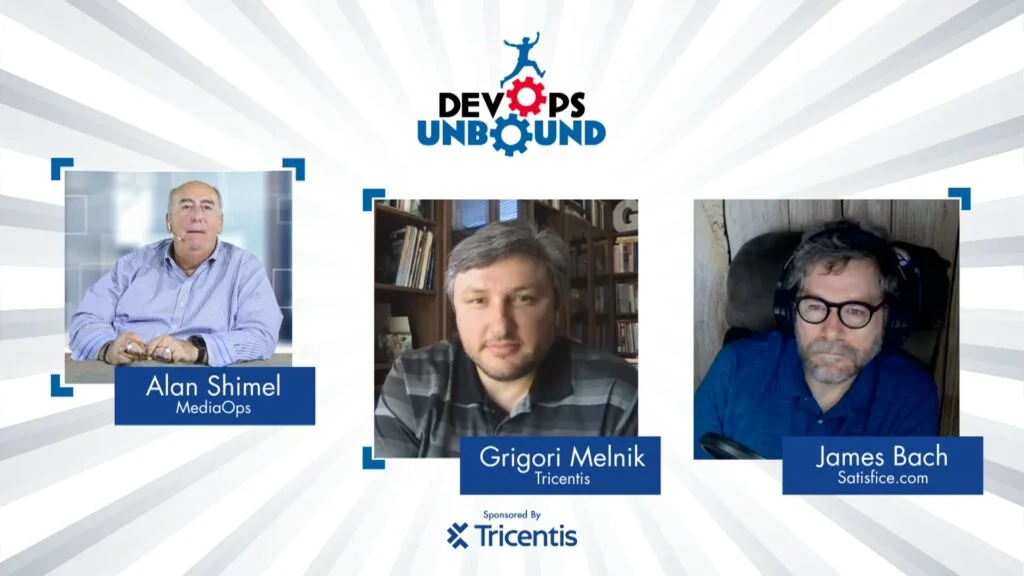 These are two people renowned in their fields who arrived here from very different paths. Bach is a high school dropout who was bitten fiercely by the computer bug. He was a game developer and then a coder who became one of Apple's first test engineers in 1987. Dr. Grigori Melnik has a Ph.D. in testing and is a respected authority in both the academic and business worlds. Though they come from different backgrounds, they have more in common than you might think. It was a great discussion and one I think you will really enjoy.
Future Plans
Future episodes of the bi-weekly show will feature topics including DevSecOps, open source, cloud-native, CI/CD, SDM, DataOps, observability, and more. We think DevOps Unbound will quickly become an essential part of your DevOps information arsenal.
We are always on the lookout for future topics and guests. If you think you would like to take a giant leap with DevOps Unbound, reach out to me at unbound@devops.com with your idea and we can follow up.
BTW, DevOps Unbound is just one of several new shows we are premiering on TechStrong TV and Digital Anarchist. Another is CISO Talk, featuring Unisys CISO Mathew Newfield and me. That will be on TechStrong TV this coming Monday. More announcements to come about new, recurring shows.
We recognize that people want to see video content and at MediaOps/DevOps.com we are producing lots of exciting new video content. Stay tuned.