Introduction
Digital transformation initiatives such as S/4HANA transformations or DevOps can have a major impact on how we test, ensure, and manage quality. Traditional testing organizations continue to look for ways to increase speed and reduce costs. Test automation and continuous testing play an integral role in enabling these initiatives and bringing about positive changes. But organizations still lack an effective way to transform traditional testing into a more modern setup and the change agents to initiate and manage the agile testing cycle.
As part of the Continuous Testing Framework, the Enterprise Enablement Team (EET) is a proven model to guide your testing transformation and streamlining strategies in your organization so that you can meet the needs from the business and customer demands. The team is designed to be a slim version of a testing center of excellence and operates as a shared service, working across the teams in an enterprise. Enterprise Enablement Teams are already driving successful testing transformations and implementations of the agile testing lifecycle.
In assessing many Fortune 500 companies, Tricentis confirmed that companies with an Enterprise Enablement Team are more likely to succeed in testing transformations than those without. Of those companies with an Enterprise Enablement Team, we identified an increased ability to implement, automated continuous integration, automated continuous delivery, tools integration, and cross-team collaboration.

1
Core responsibilities
The Enterprise Enablement Team works with development, business staff and testing professionals at all levels of an organization. Because the Enterprise Enablement Team encompasses a wide range of skillsets, its members will naturally form connections throughout a company and enable continuous testing at scale.
One of the top priorities of any Enterprise Enablement Team is to empower individual teams throughout the organization to perform their day-to-day testing activities effectively. To that end, they will have governance of the following domains:
Strategy
The Enterprise Enablement Team will design the test strategy for the enterprise by collaborating with various stakeholders and:
Define the agile testing cycle and provide a framework for testing by specifying the testing scope, testing methodology, metrics, operating model, and what to report.
Enforce standard processes. The team will ensure that teams across the organization follow the standard framework around tools, testing strategies, and reporting.
Enable teams to execute the testing strategy. Activities may include:
Performing a risk analysis
Planning the test coverage
Mapping out requirements and tests
Deciding which tests should be performed—functional or non-functional
Defining regression and progression test suites
Determining how, what, and when to report
Continuous Testing
The Enterprise Enablement Team will determine which tools to use, orchestrate tooling decisions, decide how to integrate the tools, and match the requirements with the delivery pipeline. The team will also own the continuous testing process and work to make continuous improvements so that the process remains as effective as possible.
Activities will include:
Setting up the new testing infrastructure
Order or configure the testing server or dedicated environments
Review and order permissions to build pipeline, networks, and databases
Tool integration for continuous testing
Implement the test cycle from requirements to test reporting
Connect the build pipeline and test automation tools
Perform proofs of concept (PoC)
Identify and map pain points to solutions
Set up prototypes
Provide insights and recommendations
Loop outcome back to testing strategy
For example: In some scenarios, delivery teams are highly experienced and capable but want to try an innovative approach or technology. They can call on the Enterprise Enablement Team to help execute their innovation.
Suppose a delivery team wants to implement machine learning for testing but can't resolve dependencies around implementation—or simply lacks the workforce. The Enterprise Enablement Team can run a proof of concept to help the testing team determine the feasibility of its plan and make sure the plan is aligned with the overall enterprise continuous testing strategy.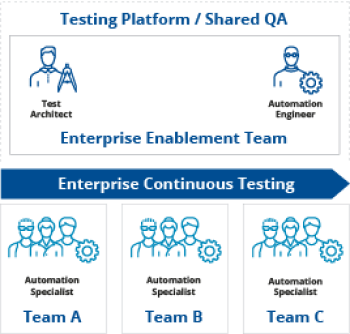 Test Management
The Enterprise Enablement Team will optimize reporting to ensure the right stakeholder gets the right feedback at the right time. They will determine what kind of visibility is required on the Team, Program, and Enterprise levels, tailoring information to specific audiences. By enabling the organization to make qualified data-driven decisions, the Enterprise Enablement team can help them deploy their testing resources efficiently.
This includes creating dashboards for viewing testing metrics such as:
Coverage (risk, requirement)
Test results on different layers and stages
Time to market
Efficiency metrics
Bugs and defects
Cost of bugs and defects prevented
Data Management
The Enterprise Enablement Team will implement the test data management strategy and solutions for the entire enterprise and take care of tooling and solutions to fulfill compliance and data regulations.

2
Team setup
The Enterprise Enablement Team is usually made up of experts taken from various teams throughout the organization. These experts can include:
Test Analysts, who perform risk analysis to constantly redefine the smoke tests, regression and progression portfolios, and exploratory tests.
Enterprise or Program Test Architects, who define the test strategy and the testing tool chain and orchestrate tool decisions.
Enterprise or Program Automation Engineers, who deploy and integrate the testing strategy and tools for continuous testing.
Together, these professionals provide testing expertise—often through a service catalog that's available to any team that needs help.
LEARN MORE ABOUT TEAMS. DOWNLOAD THE WHITE PAPER

3
An invaluable transformation tool
The Enterprise Enablement Team envisions and ensures that the right people are using the right tools as they work within the defined testing strategy. They make strategic decisions that enable testing practices to continuously improve.
The qualitative benefits of the team are that it helps redefine an organization's testing strategy on the Enterprise level as they undergo transformations and then verifies that it is being implemented and executed effectively in teams.
Activities in your testing transformation may include:
Handling transition
Manage changes that are beyond the capabilities of an individual team due to sheer scope, cross-team dependencies, or ripple effect on the enterprise, etc. Other factors may include evaluation of innovative technologies such as artificial intelligence, novel approaches, and new applications.
Resolving challenges
Assist with activities that are outside the core business of individual teams, including licensing or testing budget
Training the organization
Document and standardize tasks
Market services internally as packages
Building a service catalog
Manage changes that are beyond the capabilities of an individual team due to sheer scope, cross-team dependencies, or ripple effect on the enterprise, etc. Other factors may include evaluation of innovative technologies such as artificial intelligence, novel approaches, and new applications.
Driving the community of practice
Share best practices
Facilitate knowledge sharing between teams and professionals

4
Measuring the impact
There is a wide range of metrics available for measuring the value of that an Enterprise Enablement Team brings in a transformation initiative. Most of these metrics revolve around cost reductions derived from optimizing testing tasks. Others include:
Test cheaper
Automation rate
Cost of execution
Test better
Business risk
Execution rate per day
Test faster
Test cycle time
Mean time to detect
The Enterprise Enablement Team can assess continuous testing practices and guide you through this journey. They will find the gaps in your current testing practice and provide recommendations on how to proceed start or scale on your continuous testing journey.
INTERESTED IN ASSESSING YOUR TEAMS? LEARN MORE

5
Scale continuous testing
The Enterprise Enablement Team drives innovation by supplying proofs of concept for new testing tools and methods. As an organization adopts continuous testing across all its teams, it is essential to set up an Enterprise Enablement Team that will own the over all leverage the continuous testing strategy and processes for your transformation initiative.