Starting out with any test automation tool from scratch can initially seem daunting. You want to become productive quickly and empower your team to build reliable end-to-end tests faster while improving quality of output.
Tosca's new guided tour allows you to achieve just that. In a series of 10 steps, first-time users learn from start to finish how to create and run an automated test case in little time. To simplify the top headaches for QA and business teams, this guided tour aims to make test automation more inclusive and easily adopted by a variety of team members with no coding or programming expertise.
Taking you just minutes to complete, this guided tour lets you:
Create a single-user workspace
Automate a sample insurance web application
Use simple drag-and-drop functionality
Learn the basics of modules, test cases and execution lists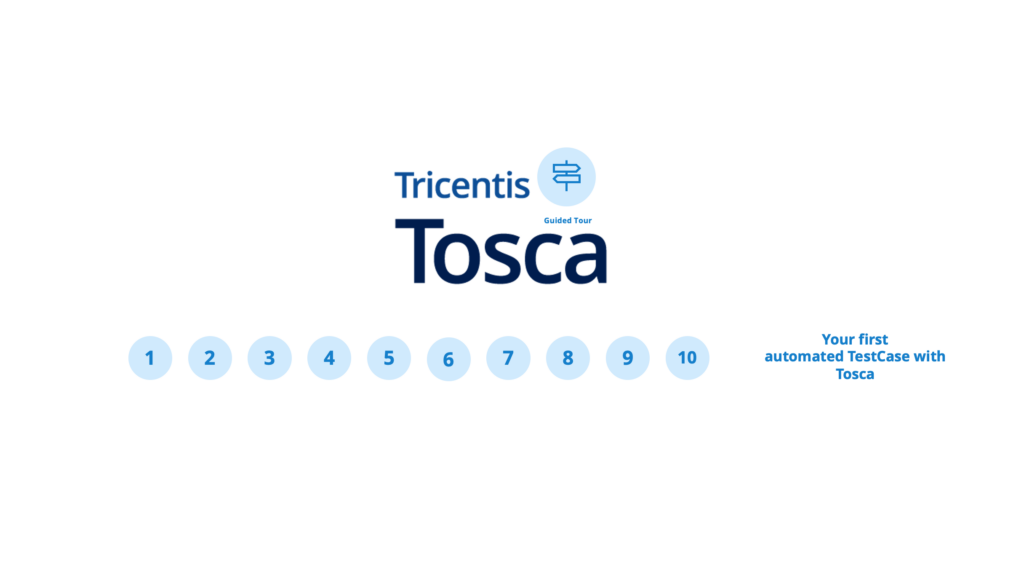 Learning doesn't just stop there. Each section also includes useful resources and links to videos, product documentation and Academy courses to dive deeper on different topics and functionalities.
Become productive in test automation, quickly and swiftly
With Tosca's new guided tour, you can:
Speed-up the onboarding of first-time Tosca users
Enable a better trial experience
Easily create, execute and maintain automated test cases
How to get started?
Available with Tosca 14.3 or higher
To access the guided tour, you need to have Tosca 14.3 or above installed on your local machine (available in German as well). With Tosca 15.0 we released improvements to the chapter flow for better user readability.
Start the guided tour
Navigate to the top right corner of the landing page of Tosca. You will see the Guided Tour icon – click on it. In a series of 10 chapters, you will be guided on how to create and run your first test case with the option to navigate at your own desired pace.
Take advantage of the free 14-day Tosca trial
If you want to try Tosca and the guided tour, you can make use of our free 14-day Tosca trial which includes features like model-based test automation, end-to-end testing, test case design and more. Learn more here.
Share your ideas with us
If anything did not run as smoothly as expected, please share your ideas with us at the Tricentis idea portal. Our group of UX designers and product experts would be happy to hear from you to help improve the onboarding experience.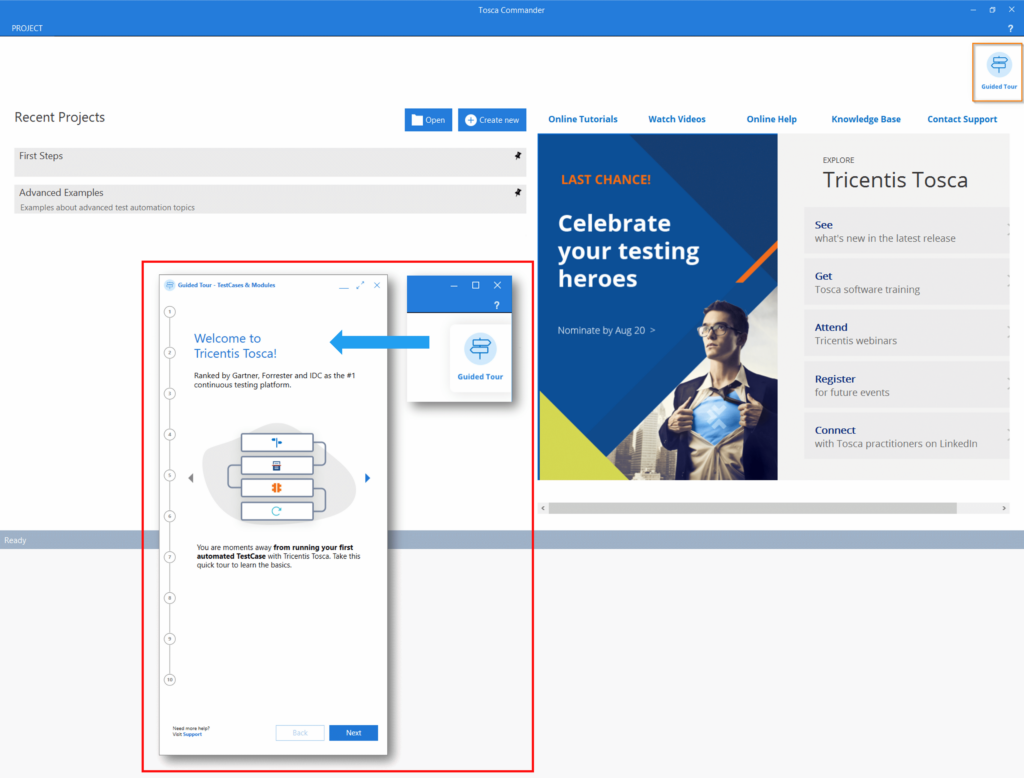 What's next?
No doubt, when evaluating different tools, you're looking for a list of key capabilities so you can get work done faster, improve your application quality and make a positive impact on your organization.
To explore advanced functionalities like Vision AI, risk-based test optimization, service virtualization and test data service that are not included in the guided tour or the trial, please schedule a call for a demo.
As a trial user, we want to make sure you have access to our customer support team to answer any questions you may have so you can get the most value out of your trial experience.
Try it out and jumpstart your journey with Tosca
Ready to get started? Register for Tosca's free 14-day trial today! Explore the full potential of codeless test automation including Tosca's model-based test automation and test case design capabilities.
Want to learn more about the guided tour? Watch this five-minute video.