We're just off the heels of the Tricentis Virtual Summit, our premier spring conference, featuring quality experts across the continuous testing, enterprise applications, and DevOps landscape.
The virtual event, which kicked off in the Americas on April 13th, followed by EMEA on April 14th and APAC on April 15th, was an engaging mix of talk tracks and panel discussions. Of all the sessions, which are now available on demand, my personal favorite was the Transformation Track, which I enjoyed being a part of. We invited quality leaders to share their strategies and best practices for starting, scaling, and optimizing transformations.
Watch any (or all) of the sessions on demand for expert insights on how to improve your customer experience, balance speed with quality + compliance, and increase efficiency + speed. Learn more about each session below and catch the replays here.
Quality leaders share strategies for delivering better business outcomes
Featuring: Julio Da Silva, VP, Business Systems Engineering at Prologis, Brietta Smith, Director of Test Practice at Hiscox, and Johann Gaggero, Head of Omnichannel QA at Moët Hennessy Louis Vuitton, PCIS
Lindsay and I sit down with Julio, Brietta, and Johann to discuss how they're increasing automation, accuracy, and efficiency within their respective industries. I've had the opportunity to learn more about each of their backgrounds and the pivotal moments that led them to where they are today. Hear firsthand, how three industry leaders are driving transformation to achieve critical business objectives (speed, cost, risk), while staying compliant with the relevant regulatory standards, and also staying ahead of the innovation curve. Be sure to watch this segment with a notebook in tow because it is packed with gems.

The numbers game: justify, measure, and optimize your transformation
Featuring: Mark Trinh, Sr. Digital Transformation Strategist and Jori Ramakers, Director of CX Strategy at Tricentis
Transforming your testing organization to deliver high-quality products at speed requires more than a great vision and top-class technology. In this session, Mark and Jori discuss how to leverage the processes, tools (like our Continuous Testing Maturity Assessment), and people to help you reach your desired business outcomes. You'll learn proven ways to justify, measure, and optimize your testing transformation—from planning, to adoption, to expansion, and continuous improvement.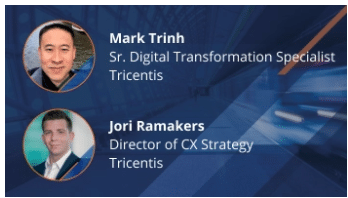 Real-world strategies for AI-driven testing
Featuring: Johann Gaggero, Head of Omichannel QA at Moët Hennessy Louis Vuitton, PCIS
AI isn't the future of testing; it's the present-day reality, with ever-increasing significance as organizations are propelling into the next normal. Gerta and Johann discuss how AI-driven testing addresses some of today's top test automation challenges. We'll explore what leaders and organizations need to know when leveraging AI-based tools (particularly what's required to move beyond successful initial pilots to capturing the true value of AI at scale). Throughout the discussion, Johann shares his first-hand experiences with a variety of AI-driven testing strategies, including Vision AI, at Moët Hennessy-Louis Vuitton. In his words, "Let's use AI to make our lives easier, including in test automation."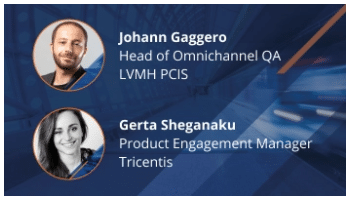 Testing transformation at enterprise scale: finding the sweet spot
Featuring: Ann Lewis, Former Head of QA at Exxon and Chris Rolls, CEO at The Testing Corporation TTC
Any time food is referenced in a presentation; I'm paying attention! In this case, the reference is to candy – even better. Ann and Chris explain how many of the clients they've worked with were able to find the testing "sweet spot", achieving upwards of 80% Test Automation Coverage, 90% Decrease in Execution Time, and 50% Reduction in Cost of Quality. Closing out this engaging discussion, both share their key success factors for successful transformation.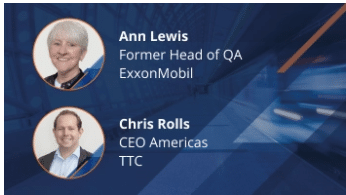 Avoiding the top DevOps testing pitfalls
Featuring: Paul Grizzaffi, Principal Automation Architect at Magenic
Testing is frequently cited as the #1 DevOps bottleneck, but many teams are consistently delivering great functionality with both speed and confidence. Like me, you're probably curious to know what exactly separates the leaders from the laggards? Tune in to hear Clint and Paul address this very question. They also share practical tips and their lessons learned from countless enterprise DevOps implementations.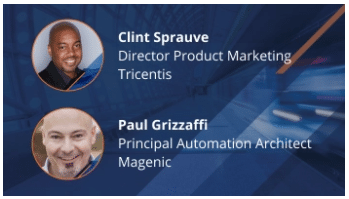 Tune into the sessions now on demand! If you can't get enough insights around the transformations impacting the application delivery world – subscribe to our new podcast Transformation in 10 – now available on Apple, Spotify, Amazon and Google. In each bite-sized episode, innovators share inside insights for navigating the transformation world and much more.