Making sense of testing is one of the biggest challenges our customers face in their day-to-day work. We're excited to announce that the new Data Export capability in Tricentis qTest makes it easier for QA and engineering leaders to bring their teams' work into context with data from across the business. Data Export makes your historical data available for download via API, seeded first by an initial download of historical data, then followed by a daily update.
About qTest Data Export
While the built-in reporting and analytics within qTest is a powerful tool for customers, many businesses put their testing data from qTest into context with other development, delivery, and operations data across their business. Tricentis qTest Data Export is a set of APIs that brings data from qTest into your data lake, so you can supply your BI tool of choice such as Tableau. This enables your teams to create reports based on a fuller set of data from multiple sources.
Preparing for and subscribing to qTest Data Export
Most organizations will need several weeks' lead time with their internal teams to use Data Export. QA and engineering leaders will likely have to consult with data teams to ensure they're ready to handle large volumes of data and regular updates. Data teams may include DBAs, data engineering, and reporting teams, as well as security and infrastructure teams. Be sure to review the prerequisite checklist within the Data Export documentation.
qTest administrators can subscribe to qTest Data Export; simply navigate to the administrator settings and select the "Data Export" tab on the upper right-hand corner of the screen. You will be directed to the subscribe page for qTest Data Export, where you'll again be able to review the prerequisites. Once subscribed, you'll manage API keys shareable with the rest of the team and qTest group access to kick off the initial data export and schedule daily deltas.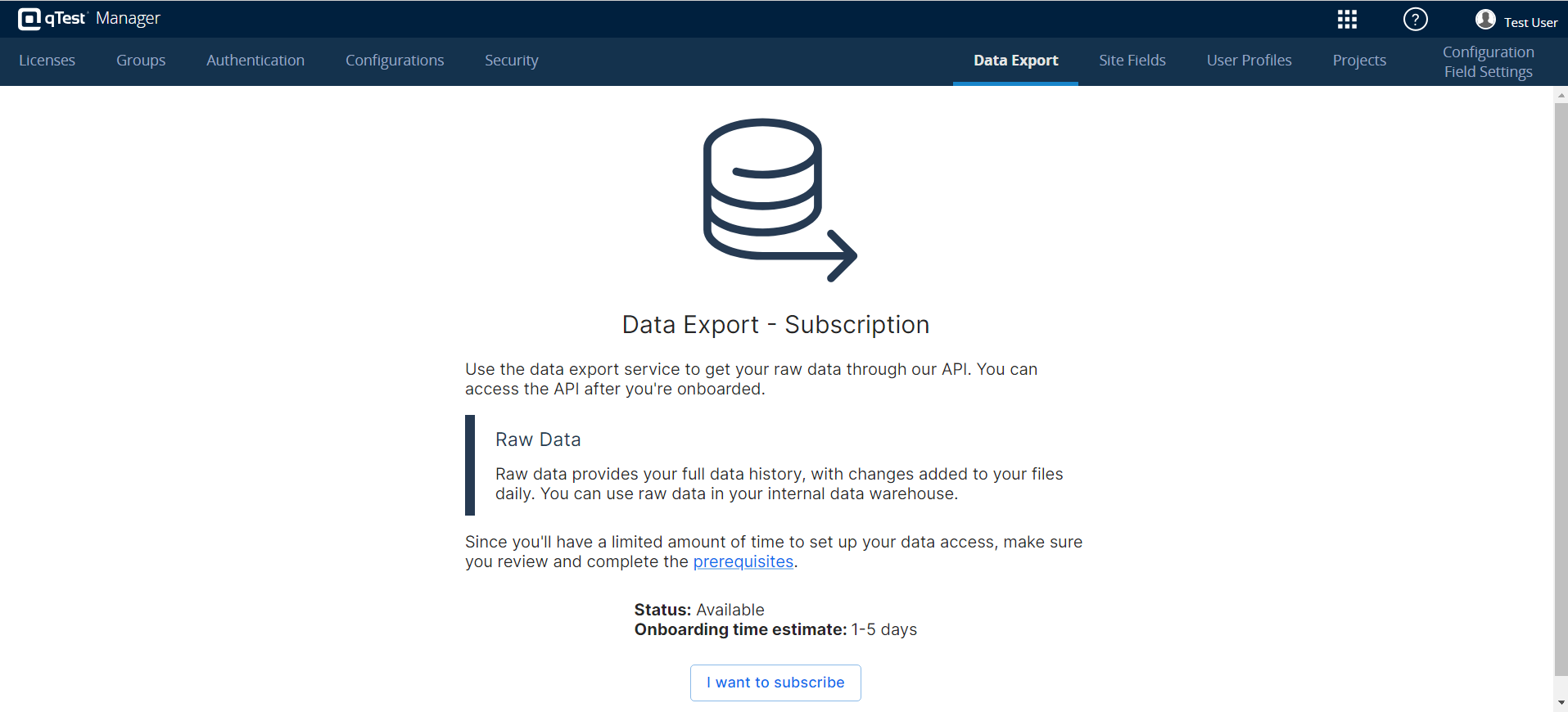 Make confident data-driven decisions
We know that having confidence in your data is important, so with Data Export, we use Change Data Capture technology to avoid data gaps, ensure complete notifications of inserts, updates, and deletes, and to maintain data lineage. Multiple data validation touchpoints are set up throughout our pipeline, with comparisons to the qTest data source to ensure data integrity. Robust processes address any data loss found at any point in time.
For security, Data Export includes self-managed API keys and qTest group access, requiring an active qTest license. Your data is encrypted at rest, and no one outside your organization can access it unless you allocate a license, grant access, and share your API key. Notifications for "bad actor" indicators and limited data retention enhance security within qTest Data Export.
Getting started with Tricentis qTest Data Export
There are a few ways to get started with Data Export: