Financial organizations' software testing processes are 29% more mature than their peers in other industries
QA teams at leading financial organizations are caught between the competing forces of innovation pressure, complexity, and regulation. As financial companies reimagine the way they do business, fast and innovative application development becomes a competitive necessity. Customers expect nothing less than a flawless digital experience anytime, anywhere. If longstanding financial industry leaders' applications aren't as slick, quick, and personalized as the ones their customers use for fun, then there's no shortage of digital-native disruptors—both fintech and "Big Tech" (Apple, Google…)—poised to steal them away.
But enterprise financial organizations are complex, highly regulated environments. Companies are rapidly adopting microservices and APIs for connectivity and openness, but their transactions also pass through mainframes, common packaged applications (like SAP, Salesforce, and ServiceNow), and industry-specific applications (like Avaloq, Finacle, nCino, Guidewire, and Duck Creek). These transactions often use an array of specialized message formats/protocols (e.g. FIX, SWIFT, SEPA, EDI, Copybook, etc.).
Thoroughly testing these financial systems as they evolve at any speed is as dire as it is daunting. Even an easily overlooked "glitch" could result in regulatory compliance investigations and penalties. "Move fast and break things" is not an option here. There's no room for error.
As innovation pressures increase, so does the testing challenge. If these systems were already difficult to test in the era of quarterly (or longer) release cycles, what's happening now that software is evolved in a matter of days…or even minutes?
To see how QA teams at financial industry leaders are responding to these unprecedented demands, Tricentis has taken a deep dive into how 110 top financial companies—including banking, insurance, payments providers, financial services, and more—test the software that their business (and the world) depends on. The result: our new report Financial Industry Trends – How the World's Top Organizations Test. This is the latest analysis in our broader longitudinal study on how the world's top organizations test.
We're pleased to report that the financial industry appears to have risen to the challenge. Overall, financial organizations' testing processes are 29% more mature than their peers in other industries.
One key part of our benchmark involves assessing organizations' progress on implementing twelve key elements of a mature, sustainable testing process. Based on the quality metrics organizations shared as well as their responses to questions about how they test, we rated the implementation level of each element: fully implemented, partially implemented, or not implemented. Here's how the financial industry companies rated versus their peers in other industries.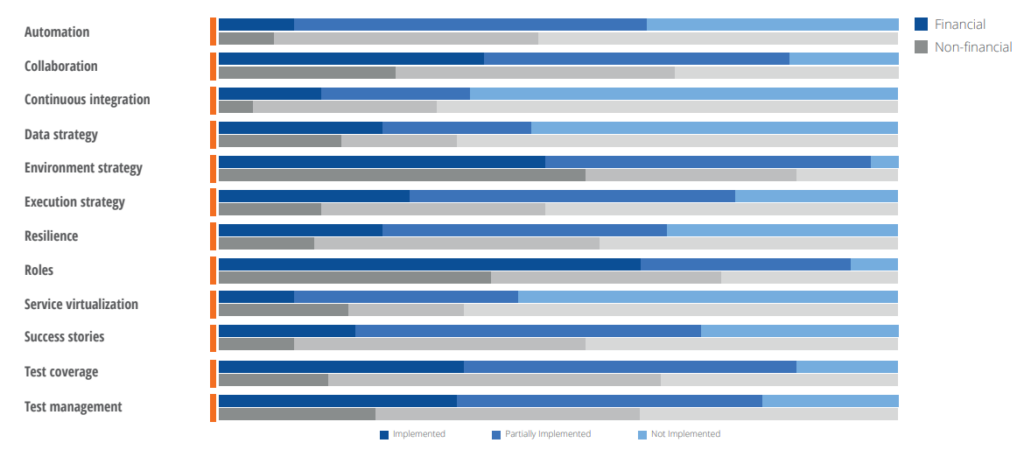 We found that financial organizations are far ahead of their peers in terms of execution strategy (60% more mature), test coverage (46%), testing in Continuous Integration (39%), testing roles (36%), and test management (34%).
More on how the world's top financial organizations test
The complete report takes a deeper dive into the nuances of financial organizations' overall testing maturity, as well as other findings such as:
Test coverage at financial organizations is nearly 50% more mature than in other industries
Financial organizations are more likely to start adopting critical Continuous Testing elements such as automation, testing in Continuous Integration, service virtualization, and test environment strategy—but less likely to have mastered them
Banking organizations are far ahead of their peers in test automation maturity
The insurance industry leads the pack in terms of test data management
[Read the complete Financial Industry Trends – How the World's Top Organizations Test report]