Even a minor SAP update could cause major damage now that SAP applications link every aspect of the business. The goal of SAP testing should be to help organizations deliver safe, fast changes to their SAP systems. But most SAP customers rely on manual testing, which requires high degrees of effort (often from key business users) but provides low amounts of risk prevention in return. This broken process slows down innovation and adds to project costs…while leaving your business vulnerable to costly downtime.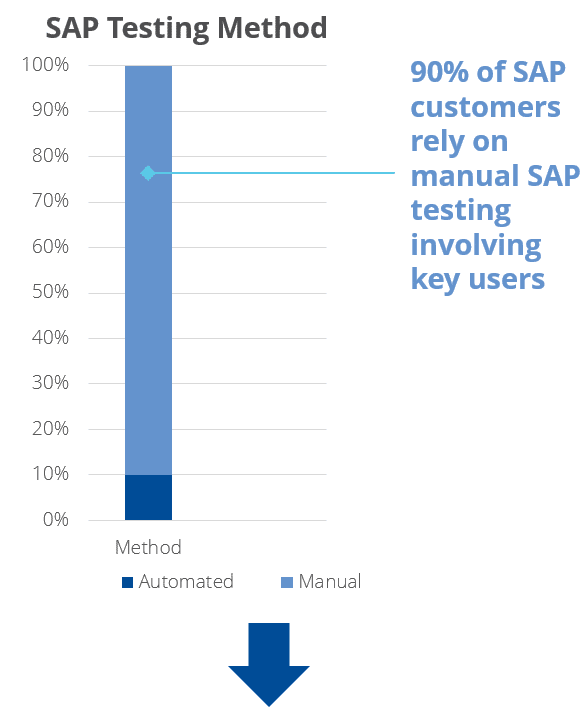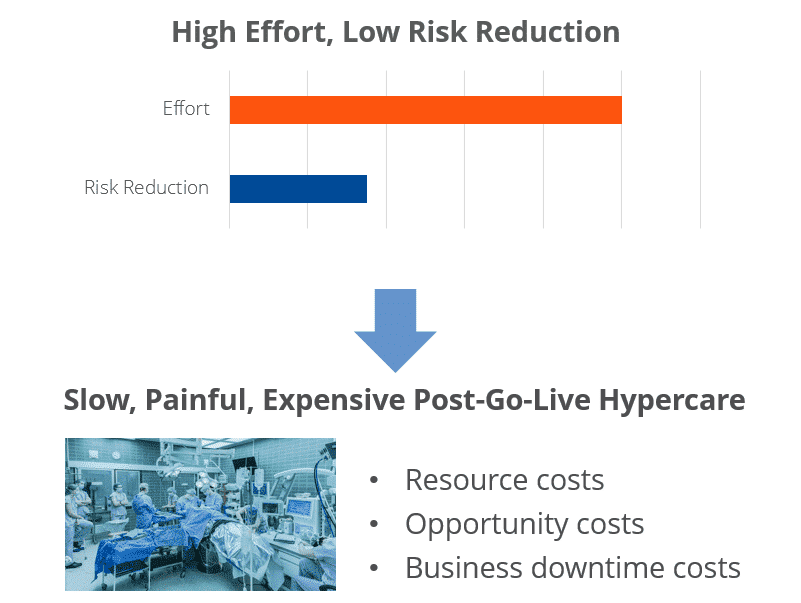 How did we get here? The complexity of SAP software makes it difficult to know which changes pose risks to your end-to-end processes. Manual testing requires high effort but provides low risk reduction, leading many companies to rely on special "hypercare" periods to stabilize business after an SAP update. During these periods, emergency teams spend weeks—even months—fixing problems that their manual testing process did not catch. Innovation stalls. Productivity plummets. Costs skyrocket.
This can't continue. SAP testing has been too slow, too costly, and too ineffective for too long. Modern platforms such as SAP S/4HANA and cloud-based offerings like SuccessFactors, Ariba, Concur, etc. take the speed of change to a new level, which raises the stakes in terms of business risk. We've reached a tipping point. It's time to do better—or else organizations won't be able to take full advantage of the "intelligent enterprise."
Fortunately, we don't need to test more; we need to test smarter. Enter the SAP Testing Manifesto.
The SAP Testing Manifesto outlines 7 key principles that have consistently helped hundreds of SAP and Tricentis customers achieve some staggering benefits:
10x faster testing speeds, making weekly (even daily) releases a reality, turbocharging their SAP innovation.
90% risk reduction, helping enterprises keep their business running during their SAP transformations, minimizing disruption and eliminating the need for hypercare.
50% (or more) testing cost savings, which results in millions of dollars saved per year for large enterprises.
The 7 principles are explained in the new SAP Testing Manifesto ebook. Here's a quick summary: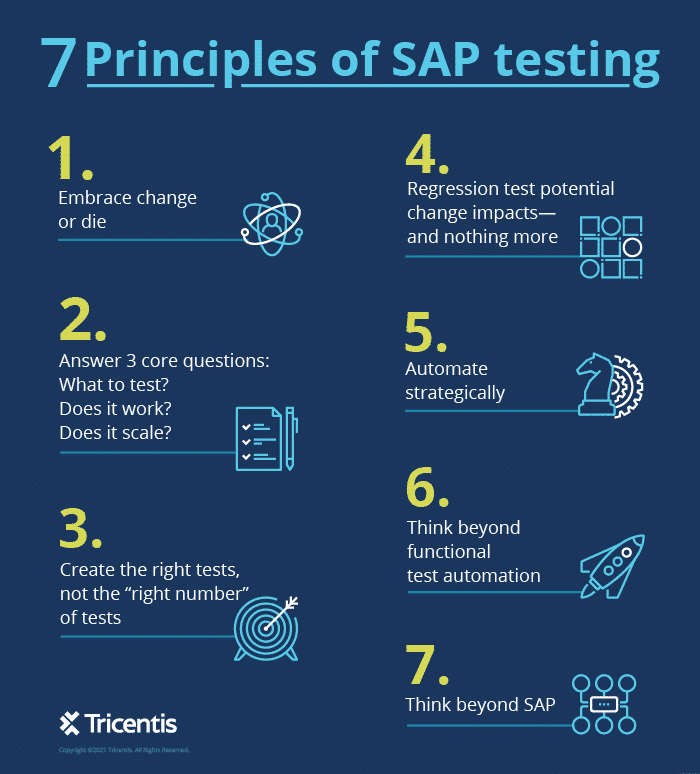 [Get the SAP Testing Manifesto ebook now]