What's new:
We will be discontinuing support for Tosca's classic engines after the planned release of Tosca 15.1.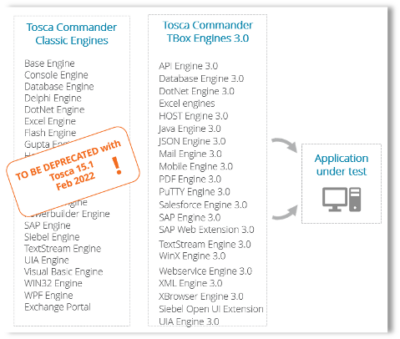 What does this mean for you? If your test automation is built with Tosca's TBox engines and not with classic engines then you don't need to worry, nothing will change for you. If it does, then we recommend that you migrate your test automation using Tosca's TBox.
At Tricentis, we will continue to develop and maintain the TBox framework to bring you the latest innovations in test automation for enterprise applications and different technologies.
Brief history lesson: What is TBox and what is Classic?
In simple words, TBox and Classic are both test automation frameworks in Tosca that are used for automating different technologies and enterprise applications. In Tosca, 'TBox engines' are used synonymously with 'Engines 3.0'. TBox, compared to Classic, offers much faster, more robust, flexible, and reliable test automation, while supporting the latest features and updates.
How does it work? Every time you scan an application in Tosca, whether it's SAP Fiori, Salesforce Lightning, Guidewire, a PDF document, a table or even non-GUI technology like API, Tosca uses TBox engines by default which provide you with higher performance in creating and executing your tests.