Salesforce is the solution of choice for thousands of organizations that require innovative digital, SaaS-based solutions that serve the front, middle, and back offices – while simultaneously enhancing the customer experience. Clicks-not-code functionality has given Salesforce customers the ability to create and maintain a highly customized platform that brings business transparency to the forefront.
Today, the possibilities of how a business can use Salesforce seem endless. But as a company's Salesforce technology stack grows in complexity, the likelihood of new features and apps breaking other processes increases significantly. Factor in Salesforce's three annual releases chock full of upgrades, and admins often struggle to keep up with all the changes at any given time. Since Salesforce can span all facets of a business, its reliability is critical.
Test automation is the only way to mitigate the odds that new code and updates will interrupt critical business processes. However, most companies continue to test their Salesforce environments the old-fashioned way: running ad hoc, manual spot tests whenever something breaks or just prior to a release – with limited coverage. Slightly more advanced, but still problematic, labor-intensive script-based testing tools like Selenium fail regularly due to Salesforce's dynamic nature. These inefficient and non-scalable testing methods leave Salesforce systems vulnerable to future breakdowns. It's time for a new approach that uses native Salesforce objects and configurations to drive test automation so that it is always up-to-date and doesn't break when new features and releases are implemented.
Testing with Salesforce practitioners in mind
Test Automation for Salesforce is a comprehensive test automation solution that enables Salesforce admins, developers, business testers, and QA teams to test earlier and more frequently. Benefits include enhanced quality of releases and upgrades, accelerated development cadence, and increased Salesforce ROI. Automated Salesforce testing is critical for companies that have complex organizations, ambitious development plans, and Customer 360 goals.
This new, innovative testing tool addresses the challenges of manual and script-based testing head on because it's an easy-to-use, end-to-end solution designed for the nuances of Salesforce. Test cases are created quickly through its innovative pre-built steps, which makes test case authoring simple and fast – especially when compared to traditional script-based testing frameworks like Selenium. The difficult nature of building reliable test cases in the Salesforce Lightning environment is resolved by automatically locking in dynamic elements using Salesforce's meta data to future-proof test cases. Salesforce professionals of all skill levels can contribute to building a test library that delivers complete Salesforce coverage, alerting the business to the presence of bugs before essential processes are impacted.
Test Automation for Salesforce key features
Context-aware, pre-built functions, and recorder – Reduces the time to create test cases by using reusable test components
No-code, stable, language- and release-agnostic automation – Lowers the time to identify Salesforce Lightning elements and makes complex components more suitable for automation
Profile-based testing – Tests Salesforce functionality for each profile to ensure complete test coverage for different user types
DevOps ready – Supports in-sprint automation using no-code/low-code options, along with version control, branching, and merging to keep up with the speed of DevOps – even syncing branches with platforms like GitHub
Reports and dashboards – Provides an interface to quickly manage and evaluate test execution so you know when a problem arises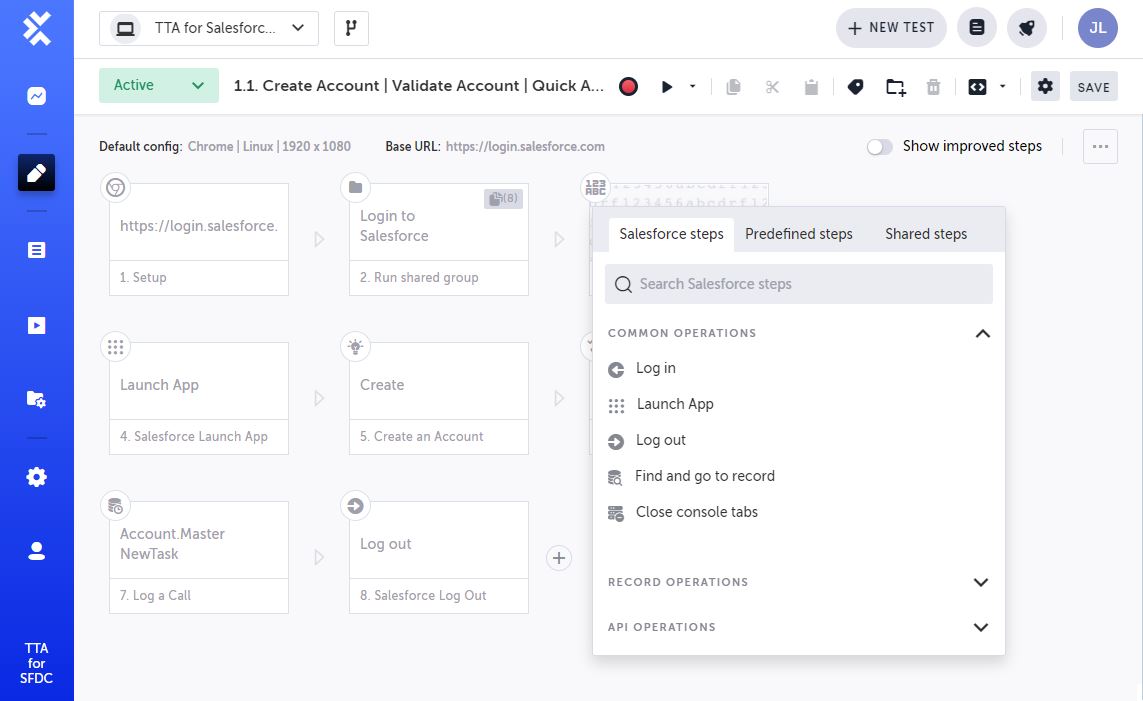 Get proactive with your testing, not reactive
With Test Automation for Salesforce, professionals now have a true end-to-end testing solution that is optimized for Salesforce pros who work in highly modified environments. Automated testing will not completely replace manual testing; rather, it is an enhancement to manual testing. Salesforce admins and developers are often overworked and burdened by an enormous backlog, and an automated testing tool will save them valuable hours, days, and weeks.
Extensive manual testing is not only boring, but also unreliable and can lead to errors. Automated testing is designed to streamline testing so that admins, developers, and business testers can quickly identify where they need to focus their attention when something breaks.
Automated testing is an investment in increasing DevOps speed and freeing up important resources to focus on strategic projects. Companies that view automated testing as a strategic initiative that will help them accelerate development cycles and reduce break-fix incidents will be able to accomplish more with less, opening the door to out-pivoting the competition while improving user and customer experiences.
How can I get started with Test Automation for Salesforce?
See how test automation can transform your approach to maintaining and improving your Salesforce environment. Check out our webinar on Nov. 3, or contact us for a trial or a demo today!