What's New in NeoLoad 7.5?
Workspaces
Overview
NeoLoad now introduces a new capability called Workspaces. Workspaces allow administrators to group users into teams and assign quotas for virtual users (see more below in the license quota section). Workspaces enable teams to organize and collaborate on their performance testing tasks, assets and results.
Workspaces enable people to separate assets such as tests, test results and webhooks in a designated Workspace and associated team members or share assets among multiple Workspaces and teams.
Users may belong to several workspaces but will only see the contents of one Workspace at a time.
When running tests from NeoLoad Web, the Zone's hosting Controllers and Load Generators are shared between all Workspaces to optimize resource usage. You may use the Reservation feature to control the access to these shared resources and guarantee that they are available for important planned tests.
Quotas on Licensed Virtual Users
Administrators can define for each Workspace a quota to limit the maximum number of Virtual Users of the license that all members of the workspace can use.
The quota is checked for tests run by NeoLoad Web as well as for independent Controllers that use NeoLoad Web as their license server.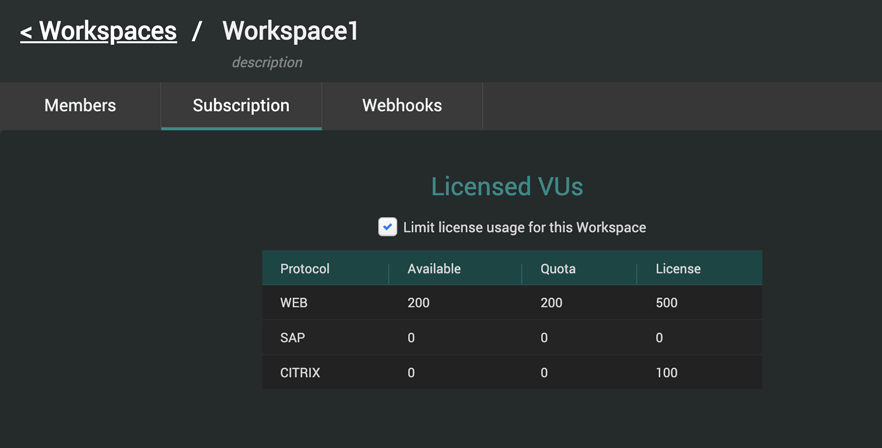 Reorganized Settings
The Settings panels have been reorganized so that all settings at Account level are in a single location (for Admin only) and the settings related to a Workspace are grouped together.
New API
The NeoLoad Web API version 3 handles Workspaces. Previous versions of the API support lists of assets and creation of assets in the default Workspace.