Mobile devices permeate almost every facet of our lives. With the number of mobile users currently at 5.1 billion and growing, mobile commerce growth will not stop anytime soon. To capitalize on this market, it's critical to deIiver a high-quality user experience through robust mobile testing.
Unfortunately, most companies have been slow to adopt mobile testing. Part of the complexity lies in setting up and configuring various iOS and Android devices. Companies often resort to expensive and dedicated skillsets to set up the relevant components needed. But in an Agile world where speed of delivery is critical to business performance, it's a must to test quickly and readily across different mobile devices, OS platforms, and application types.
With Tricentis Mobile Agent, we've removed device configuration hassles and significantly simplified the setup process for mobile testing in Tosca.
What is the Tricentis Mobile Agent?
The Tricentis Mobile Agent (TMA) is a device management service that allows you to easily set up and configure Android and iOS devices, both locally and remotely, so you can quickly jumpstart your mobile testing journey.
Because TMA is built on top of the Appium framework, you no longer need worry about installing Appium or individually configuring necessary components such as Java Runtime Environment (JRE) or other environment variables. Tricentis Mobile Agent does that for you. Simply download TMA, connect your Android and iOS devices, and begin testing — it's that easy.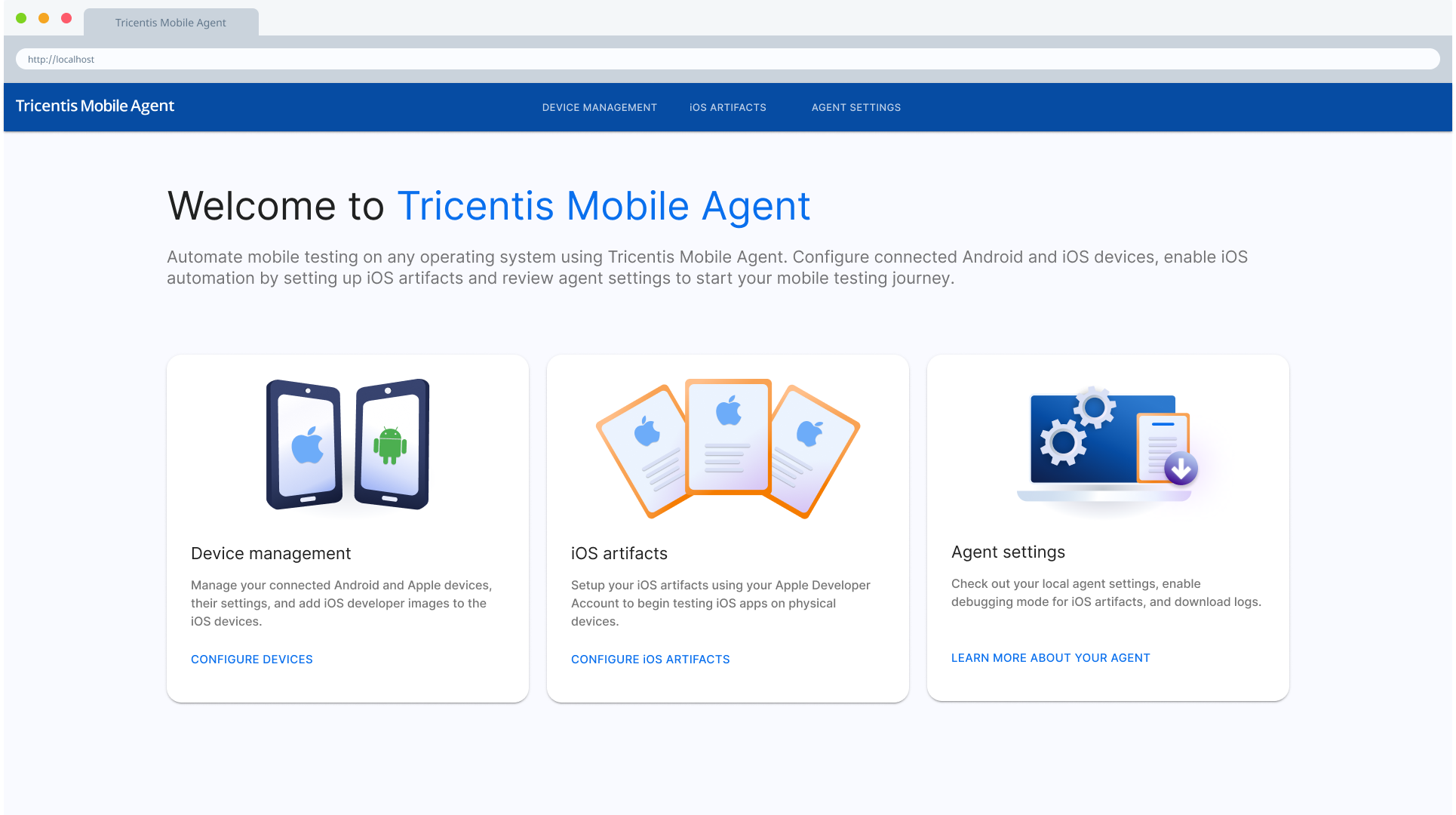 Tricentis Mobile Agent (TMA) user interface
Use Cases
TMA helps you with a variety of mobile testing use cases. With TMA you can:
Configure and connect your iOS and Android devices quickly and smoothly
Test real devices by connecting them via USB locally or remotely
Test mobile against emulators or simulators both locally and remotely
Keep up with the latest versions of iOS and Android without upgrading Tosca
Test various mobile apps, from native to web to hybrid
Benefit from support for all operating systems from Windows, Mac, and Linux
Yes, you read that right! You can plug your iOS device into your computer, test it on Windows or any operating system, and remove time-consuming configuration bottlenecks.
TMA also gives you the flexibility to test your mobile apps both locally and remotely. Say you have a team working from the office, building a native app that is designed to work on just one operating system. Now, you can test that same native app by connecting to the device from home (i.e. remotely) using Tosca, without having to download TMA. TMA simply needs to be installed on the office-based workstation where the device is connected via USB or other means. With TMA, you have the benefit of testing various types of devices and mobile apps from anywhere.
You can also leverage TMA's device management to quickly obtain information about your connected devices' status, resolution, UDID, OS platform, OS version, iOS image, and more. This management gateway not only helps you monitor mobile devices, but also to quickly develop, debug, and optimize your mobile applications as they get built.

Device management user interface in Tricentis Mobile Agent (TMA)
If you want to learn how to prepare your iOS device for mobile testing, watch this video:
To learn the basics, you can also browse through our guide on Getting Started with Tricentis Mobile Agent.
How does Tricentis Mobile Agent work in Tosca?
TMA is available as a separate installation in the Support Portal. Run the installer and TMA is up and running in 90 seconds. TMA automatically integrates with Tosca, meaning that you can connect and configure your device through TMA. It is possible to connect your physical device via USB or remotely by connecting to an emulator or a simulator to test against the relevant device.
Once your device is up and running, open Tosca to start scanning the mobile device app to create modules. You can drag and drop these modules onto test cases and populate your test cases with test data and action modes to begin automation. With Tosca, you can easily mix and match mobile tests with tests created against web, desktop, mainframe, or SAP or Oracle applications, enabling you to complete comprehensive end-to-end testing for your enterprise testing needs.
TMA is available with Tosca 16.0. We encourage you to try it out and set up your devices using the online Tricentis Mobile Agent portal.
Jumpstart your mobile testing with faster device connectivity
With TMA, you can set up your required devices so you can begin to author and execute end-to-end tests for mobile more quickly and smoothly. Some additional benefits include:
Faster mobile testing experience
Easier onboarding​
More flexibility
Want to get started with Tricentis Mobile Agent? Head over to our documentation for further support. You can also read the top 5 best practices to help you get onboarded on your mobile testing journey.