We are pleased to announce Tricentis Vera™ 23.1! This release further enhances the ability for life sciences organizations to streamline their approach to computer systems validation and more easily adopt computer software assurance programs. The new release is a result of a multi-product development effort that spanned Tricentis Vera, Tricentis qTest, and Tricentis Tosca. In Vera, users will be able to incorporate test automation more seamlessly into regulated software testing. The update also includes an expanded integration to Xray by supporting Xray Cloud Server with Vera.
Pre-execution approval
Effectively leveraging test automation in computer systems validation has long been a struggle for many life sciences organizations. Unfortunately, legacy verification and documentation practices tend to be manual and take place outside of the tools used in software testing, which can drastically inhibit the efficacy that test automation brings to the table. In this manual approach, teams often struggle to optimize investments in enterprise test automation solutions for use with GxP systems.
This doesn't have to be the case. Many major life sciences organizations leverage Tricentis Vera as their digital validation management solution. Vera allows users to easily obtain the ROI and benefits of tools like Tosca by seamlessly embedding technical controls, review/approval, and test evidence features within their testing tools. This approach allows teams to more effectively implement test automation within CSV programs. It also increases the velocity with which teams can not only execute their testing of GxP systems, but also capture compliance and audit deliverables by removing manual and extraneous documentation processes and tools. To learn more about pivoting away from documents and legacy approaches to CSV management, read our white paper Agile, digital validation: How to modernize software testing for life sciences.
While Vera already offers an advanced, integrated platform to improve how life sciences organizations manage computer systems validation, we're continuing to develop powerful enhancements that deliver increased value to our user community. Now Vera supports formal pre-execution approvals of Tosca tests in qTest, using Vera to manage and capture associated compliance deliverables for GxP applications. Starting with the Tosca 16 release and now with Vera 23.1 and qTest 11.3, this functionality is fully available!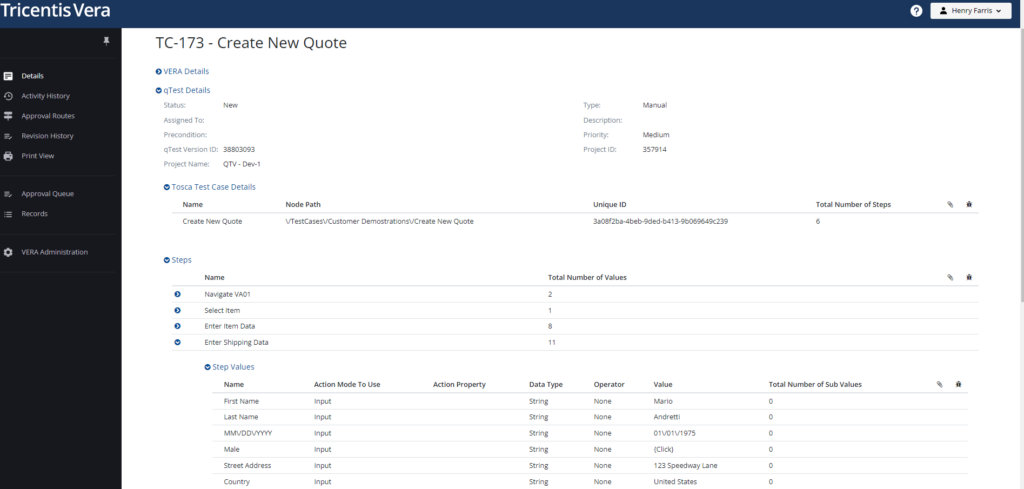 Coupled with the post-execution capability already available in Vera, the ability to trigger, control, and capture formal pre-execution approvals of Tosca tests ensures robust compliance from start to finish as test automation is incorporated into CSV processes. This integrated solution for digital validation further increases the scope of regulatory compliance capabilities Tricentis offers, while also ensuring minimal disruption to automation.
With this feature, users can:
Extend the use of Tosca automated tests with qTest to GxP applications
Initiate formal pre-execution review and approval of Tosca tests
Lock tests with Vera that are approved or routing for approval
Capture all approved revisions of Tosca automated tests in Vera
Prevent the execution of unapproved tests
Execute tests upon approval and support continuous execution of approved tests
Initiate the formal post-execution review and approval of test results
Capture results, test evidence (e.g., screenshots), and associated review/approval history with Vera
Leverage Vera as the system of record across the testing lifecycle
To learn more about this feature and what it can bring to your organization, please join us for our March 8 webinar Implementing effective test automation in computer systems validation environments: Introducing Tricentis Vera 23.1.
Xray Cloud integration
As we continue to expand Vera as a digital validation platform across the software quality landscape, we understand that organizations — or even different teams within the same organization — leverage a variety of tools to meet specific use case requirements. Vera already supported an integration with Xray on the Jira server, and now we have extended the same capabilities and features to Xray Cloud users. Vera 23.1 includes:
21 CFR part 11 compliance
Workflow and technical controls
Configurable review and approval routes
Record traceability
Central review and approval portal that can span multiple integrated solutions
Replacement of traditional documents with electronic records
If you would like to learn more about pre-execution approvals or Vera's XRay Cloud integration, please contact us to schedule a demo.