Today, we are pleased to announce the availability of Tricentis Test Automation (TTA) for SAP integrated with SAP Cloud ALM. This release is the result of three years of close collaboration between Tricentis and SAP, and the result brings the best of application lifecycle management and test automation to SAP customers.
"We chose to standardize on and offer Tricentis' latest SaaS-based test automation technology to our customers because it aligns perfectly with our commitment to delivering cutting-edge solutions that drive efficiency and effectiveness," said Marc Thier, SVP Application Lifecycle Management, SAP. "Tricentis Test Automation solutions offer a wide range of benefits that are crucial for our customers' success in today's rapidly evolving digital landscape."
TTA for SAP integrated with SAP Cloud ALM is available for all SAP customers with SAP Enterprise Support at no extra cost and enables test orchestration in SAP Cloud ALM. All browser-based SAP products and applications are supported, e.g., FIORI, ARIBA, SuccessFactors, etc.
"We are thrilled to be SAP's testing vendor of choice. Through the power of our longstanding partnership, our shared customers can accelerate the adoption of their SAP software, optimize their SAP solutions, and ensure quality in their SAP releases," said Lee McClendon, Chief Digital Officer, Tricentis.
This offering is Tricentis' latest contribution to SAP's solution extension initiative. The invitation-only program is a collaboration between SAP and technology partners with offerings that complement SAP solutions. Its primary goal is to provide SAP customers with on-premises and cloud solutions that reduce cost and optimize efficiency.
Businesses who use SAP solutions can employ Tricentis' continuous testing solutions to successfully manage SAP's accelerated update cadence. Other services we offer these businesses include product roadmaps, consistent innovation, early support of SAP UIs and technologies, and tight integration with SAP solutions.
Included with SAP Enterprise Support
TTA for SAP integrated with SAP Cloud ALM includes access for up to 5 users with up to 5 agents and allows for automation of any web-based SAP application. Additional test automation support for SAP APIs, SAP GUI-based applications, and Test Data Management capabilities will be available in the coming months. A commercial offering akin to SAP Enterprise Continuous Testing by Tricentis with extended features will also be available soon.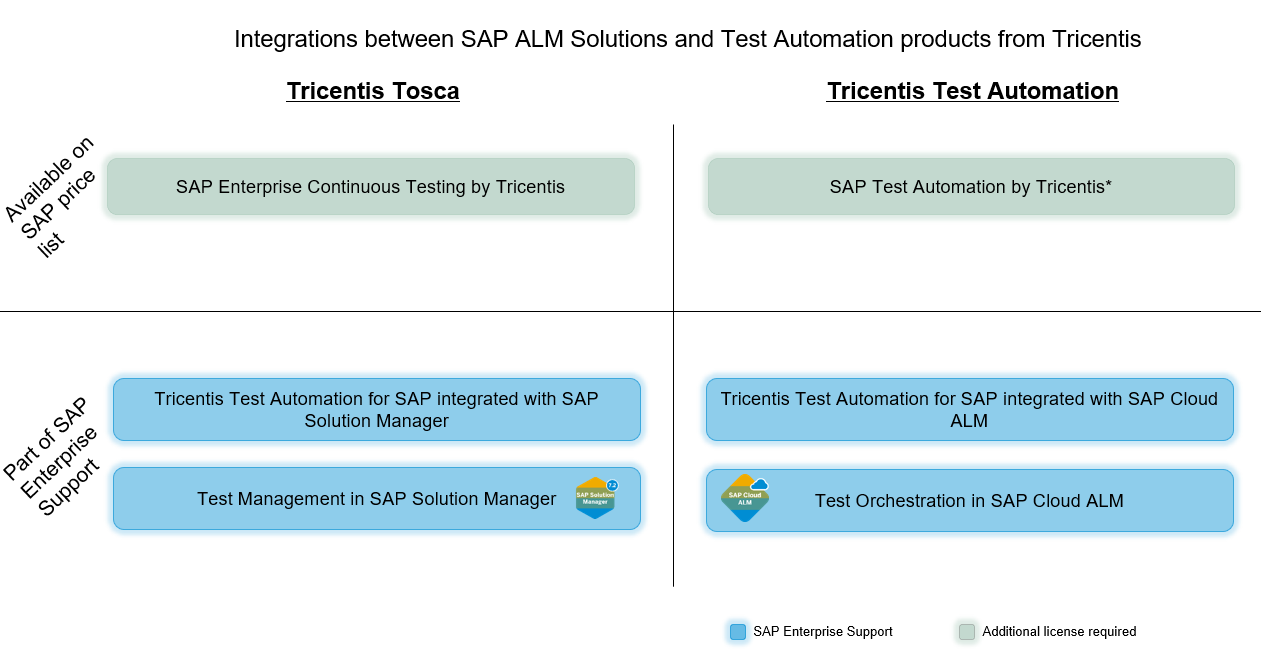 What is Tricentis Test Automation (TTA)?
Tricentis Test Automation (TTA) is a cloud-based, collaborative testing platform that enables teams to validate the behavior of their web applications against their backlog of feature requests and business requirements. Whether it's functional UI or API/microservices testing, TTA can automate end-to-end system tests across web applications.
This easy-entry SaaS-based solution allows anyone to quickly assemble resilient, automated tests without coding or prior test automation knowledge. TTA's model-based testing approach helps reduce maintenance when apps or processes change.
Why test automation?
In the world of DevOps and agile software delivery, test automation plays a crucial role in your CI/CD pipelines. Test automation ensures the functional correctness of your application at the unit and system level, as well as the performance, security, and other business requirements that need to be met before deploying an application into production. With TTA you can eliminate testing as a bottleneck from your delivery pipeline, ship new features faster, and deploy enterprise applications with confidence.
TTA offers numerous advantages for organizations seeking to optimize their testing processes.
Time savings. Automation eliminates the need for manual testing, reducing testing time and increasing efficiency.
Error reduction. Automated tests ensure consistent execution, minimizing the risk of human errors and ensuring accurate results.
Scalability. Test automation allows for easy scalability, accommodating growing testing needs without compromising efficiency.
Repeatability. Automated tests can be executed repeatedly, as often as desired.\
Efficient execution. Automated regression testing enables organizations to quickly identify and fix issues, ensuring the stability of software systems.
All of these automation benefits are now available within SAP Cloud ALM with just a few clicks. Read on to learn how to set it up for yourself.
How to get started with TTA for SAP integrated with SAP Cloud ALM
You can get started very easily by simply logging in to your SAP Cloud ALM tenant as a user with admin rights. A new tile can be found in the Administration section of the launchpad.

After clicking on this tile, you will be taken to the setup.
First, you will need to give consent to the terms and conditions, after which you can proceed through the four-step setup.

The setup establishes a connection between SAP Cloud ALM and a newly provisioned TTA tenant, including SSO and the endpoint for test automation.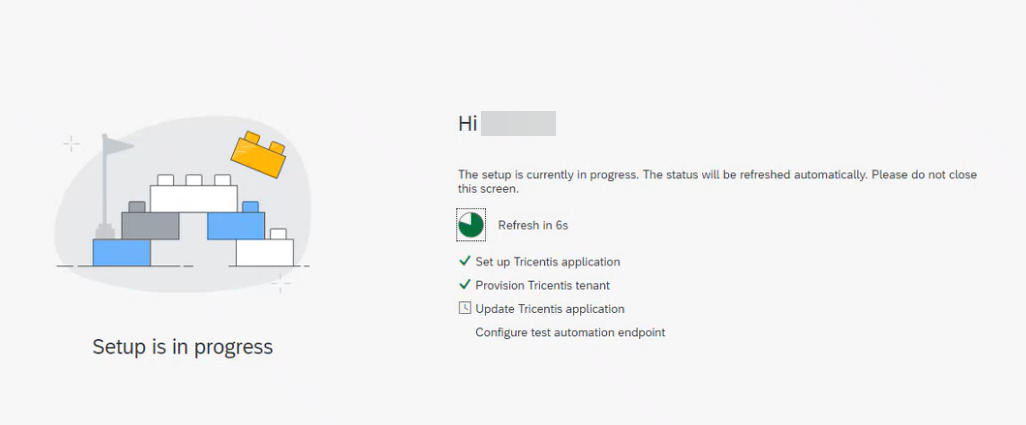 TTA for SAP integrated with SAP Cloud ALM in action
How the integration works
TTA and SAP Cloud ALM integration is achieved through TTA's publicly available APIs. In the integration, SAP Cloud ALM manages the entities for business processes, requirements, user stories, and defects. These are all linked to manual and automated test cases.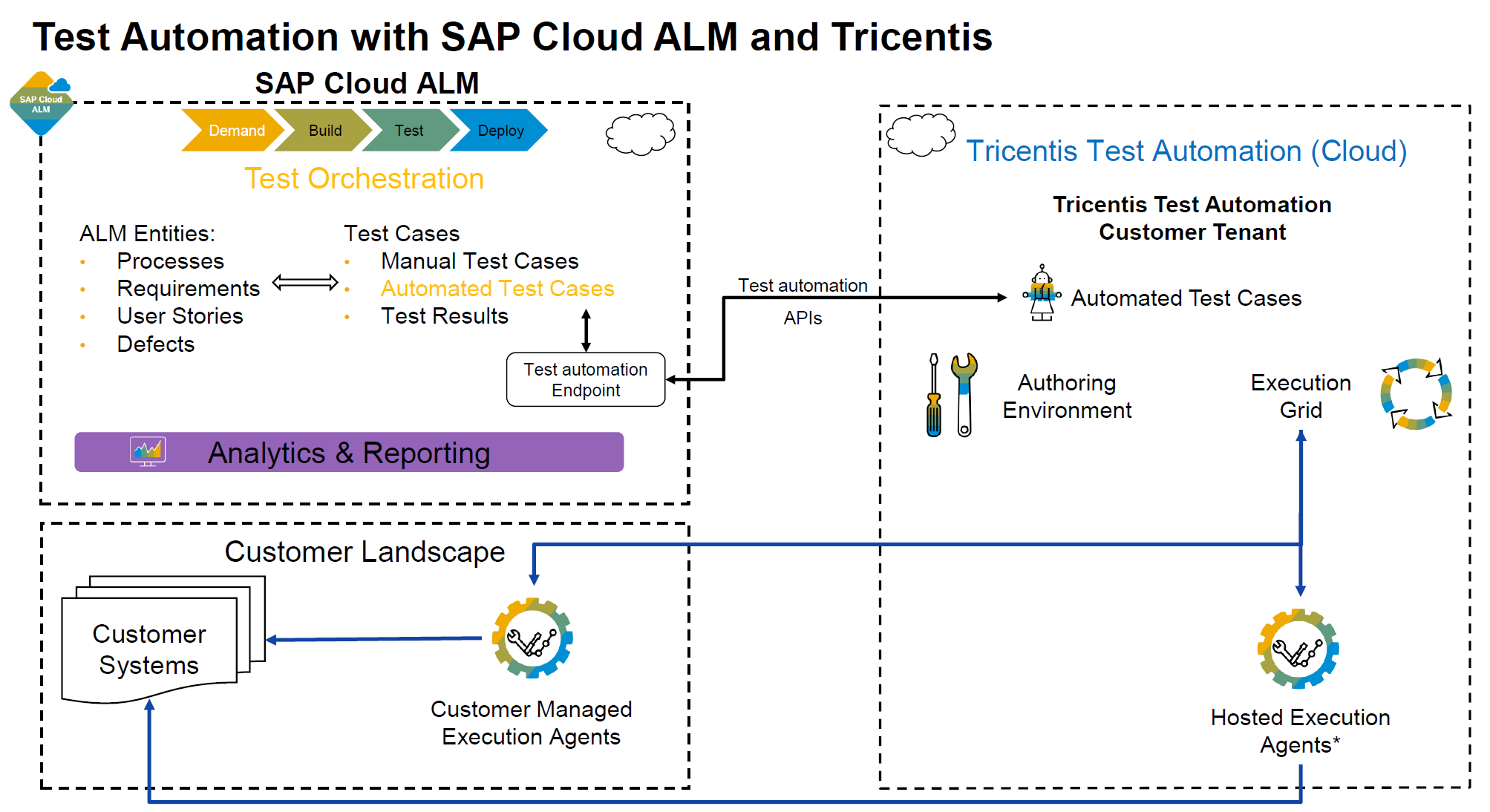 For automated test cases, the test automation endpoint connects to TTA via test automation APIs. SAP Cloud ALM mainly focuses on orchestration, but execution is also possible from this platform. Reporting and triggering of test cases are available in SAP Cloud ALM.
For each SAP Cloud ALM tenant, there is a corresponding Tricentis tenant. The automated test cases are managed by TTA, and only necessary information is synchronized using the transformation API's. TTA is the target environment for the automation, including the creation, maintenance, customization, and execution of test cases.
Test execution at scale
In TTA, the test execution is facilitated by a piece of software called an automation agent. The agent program can be installed on a local machine, virtual machine, or even in a container. These agents connect to TTA and are always ready to receive and execute tests. The agents are managed in Tricentis' execution grid.
There are two types of agents:
On-premises execution agents
Hosted execution agents
On-premises execution agents are self-explanatory and only used in on-premises systems. There are two types of hosted execution agents: private and shared. These agents are identical but configured differently. You can use the private agent to run a test locally, and the test results are visible only to you. With the shared agent, multiple users can perform tests in the same test environment.
Conclusion
Tricentis Test Automation for SAP integrated with SAP Cloud ALM represents a significant milestone in the world of test automation. By leveraging this exciting offering, organizations can streamline their testing processes, achieve higher efficiency and accuracy, and unlock the benefits of continuous test automation in the cloud with just a few clicks.
To learn more about Tricentis Test Automation for SAP integrated with SAP Cloud ALM visit here. To learn more about Tricentis Test Automation, request a demo, or try 30-day free trial. Or, watch our TTA webinars: Simplify and scale test automation in the cloud: Introducing Tricentis Test Automation or Just-in-time testing: How to test end-to-end business processes for cloud apps.