Today is an exciting today for us here at Tricentis! We're introducing two brand new products:  Test Automation for Salesforce and Test Management for Jira. We're also releasing a major upgrade of NeoLoad for performance testing.
Together, these new releases will enable customers to deliver new capabilities and workflows to their business faster, collaborate more efficiently among product teams, and enhance digital experiences for all end users.
What's driving these new product developments? Customer feedback. Since the pandemic, organizations have turbo-charged their digital business initiatives and we are stepping up to help them.
For example, Heineken is on a mission to become the world's best-connected, most relevant brewer for consumers living in the digital age. They're now putting new systems in place to deliver seamless digital interactions across the entire value chain.
Another customer, Flowers Food, is redesigning core business processes and building digital capabilities to enable more agility, become a category leader, and achieve their vision of building the "bakery of the future." They're transforming the way they engage with consumers, customers, and employees.
In retail, companies like Abercrombie & Fitch are adapting to changing consumer behavior by finding new ways to engage with online shoppers. Investments in fast and reliable digital experiences, same-day deliveries, and loyalty and rewards programs enable them to better compete.
Tricentis Test Automation for Salesforce
The rise of low-code application platforms
New business applications are being built much more frequently on low-code platforms like Salesforce. This is partly due to increased pressure from business teams to deliver new functionality more quickly, and to overcome a shortage of professional developers who are difficult to find and hire. New capabilities and workflows can be developed and deployed into production much more quickly when you can use an existing sales and marketing platform as the starting point.
Gartner predicts that IT spend on low-code development technologies is expected to grow to almost $30 billion by 2025, accounting for more than 70% of all application development activity. Clearly, low-code application platforms have gone mainstream, and we need to talk about how we can help address some of the challenges that we're hearing about from customers.
Test Automation for Salesforce admins, developers, and testers
Salesforce customers typically encounter three main issues that complicate testing.
Salesforce applications are becoming increasingly complex. Using a manual and ad hoc testing approach, it regularly takes Salesforce developers and admins a full week or more to ensure that a new application works as expected without breaking any existing functionality.
Three platform upgrades a year are hard to keep up with. The Salesforce release cycle puts a lot of strain on admins and business testers. In addition to preparing for the new releases, admins and developers also must balance requests from the business to make changes and enhancements. That's no small job.
Adoption of test automation tools and processes among Salesforce teams is slow. Frankly, this surprised us a bit: teams that support large Salesforce organizations (1,000+ licenses) continue to test manually and sporadically. We'll dig into this in more detail in upcoming research, but suffice to say that the market is ripe for purpose-built test automation tools that address this need.
With Tricentis Test Automation for Salesforce, we want to eliminate any reason for Salesforce admins, developers, and testers not to automate repetitive, manual QA tasks.
We've accomplished that with an intuitive, easy-to-use user interface that uses steps, triggers, actions, and other native terminology that is familiar to every Salesforce professional. It is fast and efficient for users of all skill levels to author tests and build automation using the 'click-not-code' approach that made Salesforce so popular.
The product is context aware and ready for Salesforce Lightning. We've added support for dynamic tables, conditional fields, pop-up windows, and custom objects that are difficult to automate with Selenium scripts. With every new Salesforce platform update, your tests will work. There are lots of other features that make Test Automation for Salesforce a must-have in your toolchain.  Learn more here about all the things you can do with it, or attend our webinar on Nov. 3.
Ronaldo Francisco, Test Specialist at Australia-based Idea Science, participated in the beta program and summed it up nicely when he said, "It's really easy to use, especially compared to other solutions. It's remarkable."  Thank you for your feedback, Ronaldo!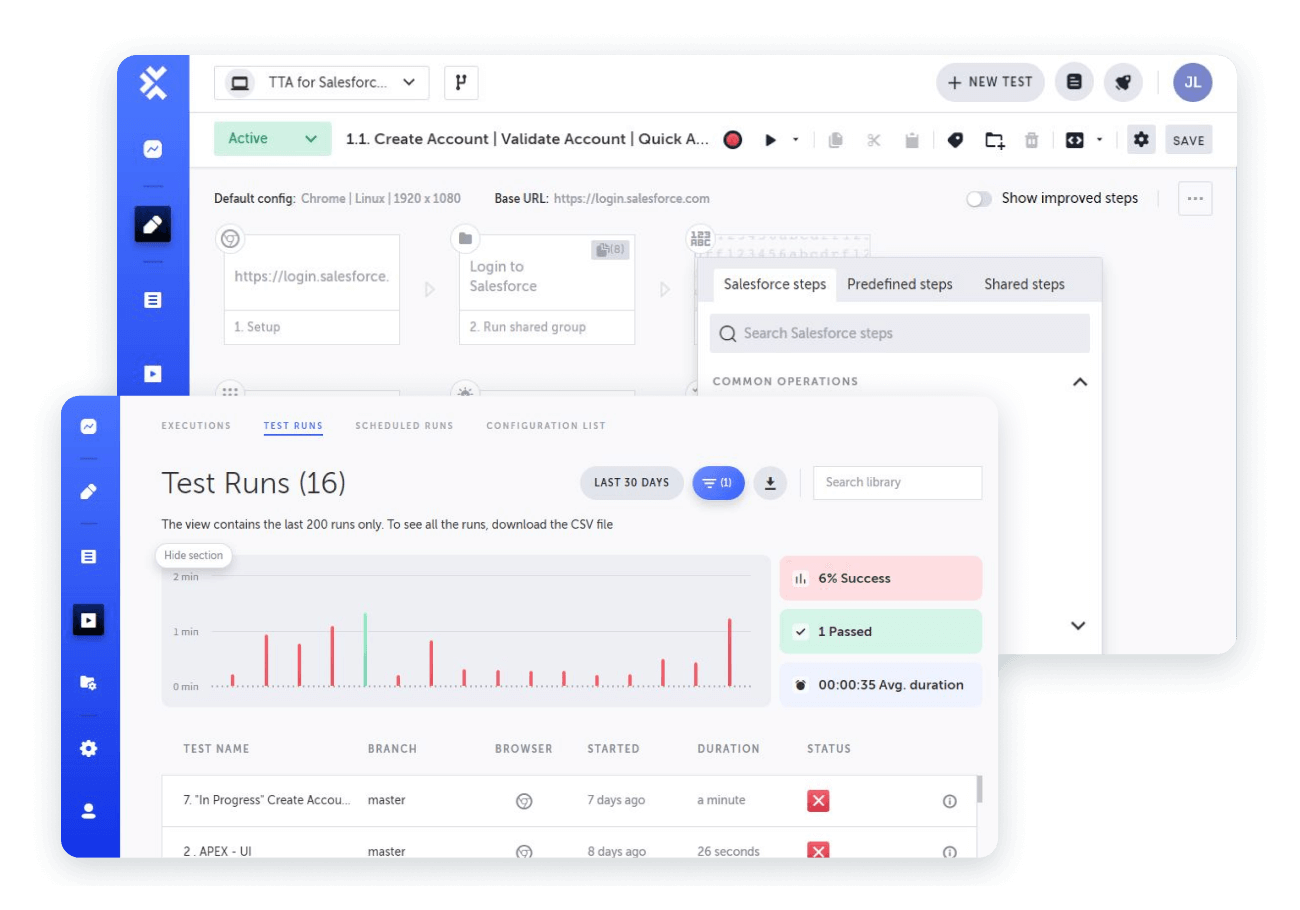 Tricentis Test Automation for Salesforce
Tricentis Test Management for Jira
Manage quality in one place
Among organizations with digital business initiatives, collaboration among product teams has shifted in a good way. The adoption of DevOps and DevSecOps is now more widespread, supported by collaboration tools like Atlassian Jira. With Test Management for Jira, everyone on your team — from developers to testers, business analysts, product,  and project managers — can plan, build tests, govern changes, attach test artifacts, keep track of changelogs, and see test execution trends over time. It's a powerful tool that can help agile teams keep everything in one place and tightly integrated with your DevOps toolchain.
Why Jira? With an Atlassian market cap of over $58B, analysts estimate the market share for Atlassian Jira at over 88% for bug and issue tracking, at 60% in IT Service Management, and over 40% in project management. With such widespread adoption, chances are that your company also uses Jira to enable teams to collaborate more efficiently.
So why not extend Jira with test management capabilities for all your Jira users so that you can manage all your development artifacts in one place?
Test Management for everyone in Jira
We built Tricentis Test Management for Jira to help product and business teams accelerate the development process from idea to production.
UX for the win. When designing a brand-new product, you have the freedom (and responsibility) to consider the experience for all users that might interact with the plug-in. The plug-in is designed for a mix of power users and occasional users that have different expectations and needs.
Scale as you grow. Unlike what you'll find in other plug-ins, the architecture is designed so that it works just as fast for small projects as it does for very large, enterprise-wide deployments with hundreds of thousands of test objects and artifacts.
Analytics and reporting. As the saying goes, you can't manage what you can't measure, and we've spent a lot of time building dashboards and reporting features that we think you'll find useful.
Test Management for Jira is free for up to 10 users, with a 30-day free trial. For larger teams, pricing starts at $1.38 per user per month and goes down from there.
Read more about it, attend our webinar on Nov. 9, or head over to the Atlassian marketplace to check it out.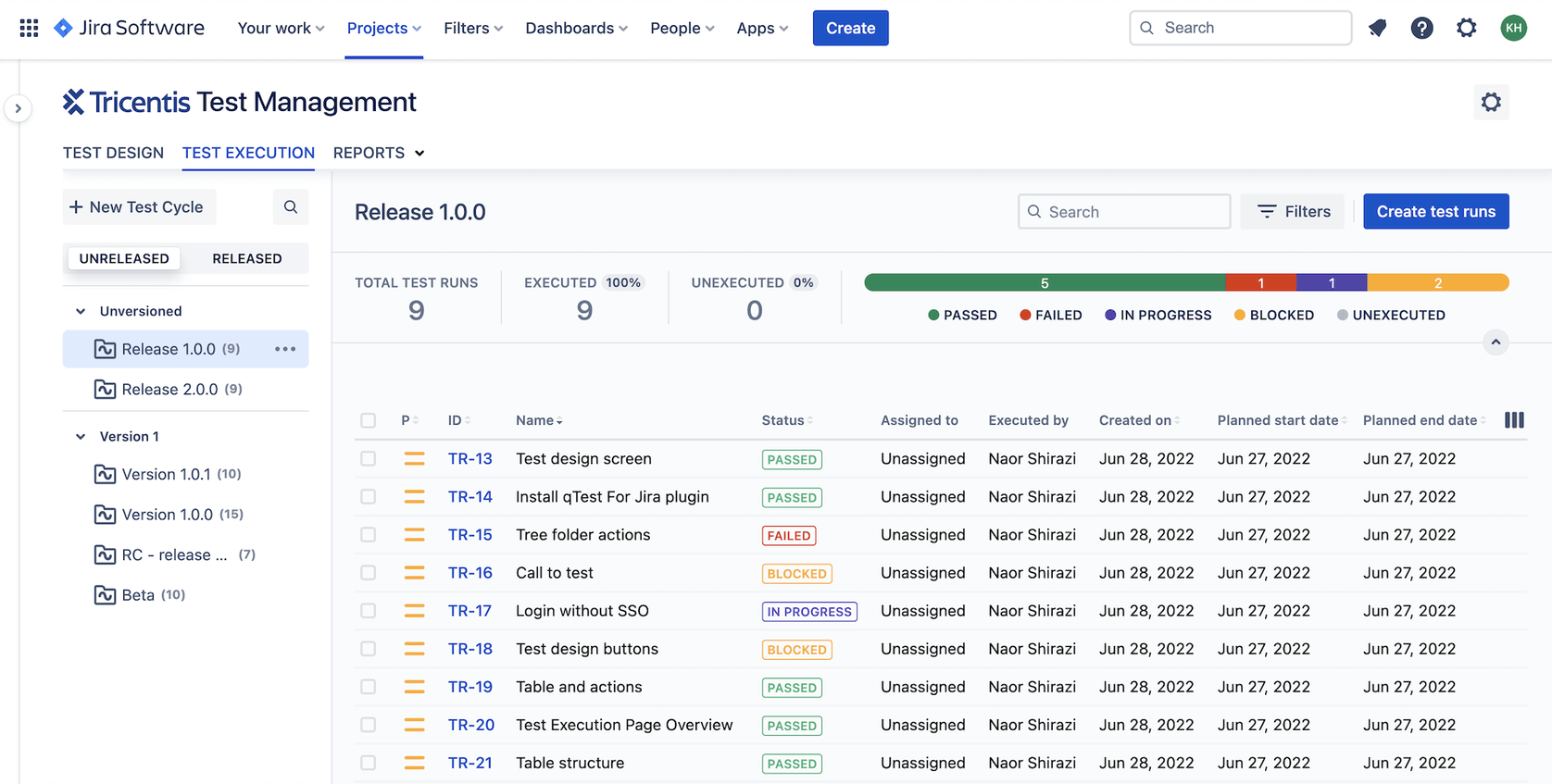 Tricentis Test Management for Jira
NeoLoad with RealBrowser
Customer experience leads to revenue growth
Recent IDC research indicates that improving the customer experience directly impacts the organization's bottom line. More than 30% of senior IT leaders globally reported improved profit margins as one of the top five benefits, and 61% saw at least a 5X return on CX investments. This is impressive and confirms what we've expected all along: that great customer experience drives customer engagement and loyalty. As consumers we're much more likely to spend money with vendors that have great customer service and responsive, easy-to-use web and mobile apps.
Given that market context, it's easy to see why any customer-facing or internal application must be responsive and scale as demand, which can be unpredictable at times, increases. NeoLoad with RealBrowser, a major new capability, enables performance testing of modern, cloud-native applications by simulating real user behavior at the browser level. This is important because there are several goals that we wanted to achieve with this major new release.
Democratize performance testing. Earlier we've talked about a shortage of skilled professional developers; this applies to performance engineers with deep domain expertise as well. For organizations to adopt performance engineering, performance test tools must be easy to use and enable a wide variety of code-less and pro-code use cases.
Shift performance testing left. We also need to think about how performance testing can be incorporated earlier into your development cycle (aka "shift left"). Developers must be able to test code and APIs at the unit level, DevOps engineers must be able to automate smoke tests as part of CI/CD pipelines, and QA teams must be able to conduct larger scalability tests before go-live.
Support modern, cloud-native applications. In an environment where most applications run on some type of cloud infrastructure and are built with modern, service-oriented architectures, performance testing tools should enable QA teams to deal with the more complex, dynamic applications that could invoke hundreds of backend or third-party service calls every time users interact with the applications.
With these design goals in mind, we've worked hard to enhance our existing performance testing capabilities at the protocol level, such as HTTP, databases, Citrix, and SAP GUI with browser-based technology (aka RealBrowser) that is better suited to capture the end user experience of dynamic web applications. These applications might use web sockets, Ajax, Angular, Node.js, and others to render applications in the browser regardless of the end user device or mobile or web use.
In other words, we've tried to combine the best of both worlds. This means that as a user, you can mix and match browser- and protocol-based performance testing as it suits your application, your use case, and the type of performance metrics you want to measure. By integrating NeoLoad with APM and observability tools like Dynatrace or Datadog, you get even more visibility into how your application performs in different usage scenarios, accelerating the process of identifying and eliminating performance bottlenecks. Learn more here or attend our webinar on Nov. 10 to hear about what's possible with NeoLoad 9 and why we believe RealBrowser is a game-changer in the performance testing market.
What lies ahead
With these new releases, we're kicking off an innovation cycle here at Tricentis. There are many more exciting new products and features that we're working on that can't be covered in this blog. In the meantime, I hope you'll be able to join us in person at an upcoming Tricentis Roadshow. If you can't join us in person, catch the livestream of the Chicago Roadshow on October 20, 2022.