We are excited to announce the release of Tricentis Test Management (TTM) for Jira in the Atlassian Marketplace, designed specifically for organizations who want to place test management directly within Jira. With TTM for Jira, QA, development, and the business can collaborate closely to deliver quality software together.
Collaboration between QA and development teams is more important than ever. Agile has become a mainstream practice, and product owners, application developers, and testers realign on new priorities and requirements with every sprint. When you factor in DevOps and increased automation, release cycles are getting even shorter. Businesses are moving faster, and every member of the product team needs to be on the same page regarding requirements, priority, and release readiness, through every stage of the development and testing lifecycle.
One of the most common solutions for planning development work is Jira. While we've always delivered a first-class, event-driven Jira integration with Tricentis qTest, we recognize that some teams prefer a test management experience directly inside Jira. We've also seen how existing solutions can struggle with performance, usability at scale, and ease of reporting, all which can slow you down. TTM for Jira closes these gaps and adds an intuitive UI to keep teams in flow and focused.
Scalable, performant test management within Jira
Prevailing concerns with Jira applications for test management are speed and performance at scale. It takes only a few months for even small teams to generate hundreds of thousands of test objects, placing networking and storage strain on Jira infrastructure that wasn't designed to support such use cases. With TTM for Jira, we've architected the application to take advantage of resources in the region of your choice to ensure that you stay productive as your team, product, and business grow.
User experience to stay focused on testing
"Tricentis Test Management for Jira has a great user interface, directly inside Jira, so QA teams can literally stay on the same page with developers. The product makes it easy to get started, stay organized, and focus on testing. A hands-on tool to get capabilities of test management and execution both delivered at ease." – Amita Zutshi, Lead QA Engineer, Rev-Trac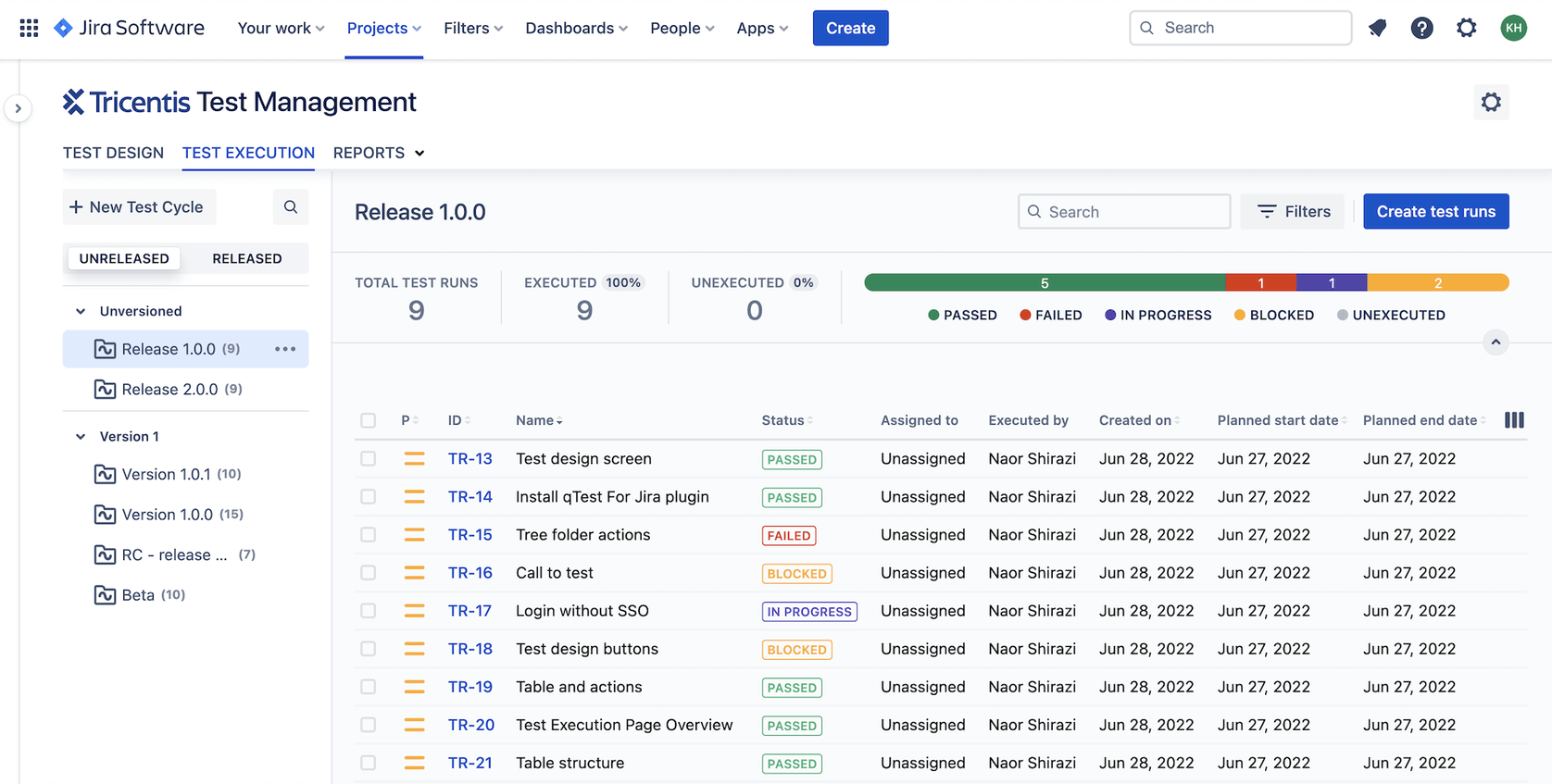 Summary of Test Execution within Tricentis Test Management for Jira
Focused, real-time reporting
Reporting is one of the core pillars of test management, and being able to easily test, track, and report test results is critical for any test management solution. Providing the right data, at the right time, to the right people can make the difference between meeting customer commitments or delaying your release.
With the intuitive traceability matrix report and test metrics in TTM for Jira, you have the information you need at your fingertips. Reporting is real-time, with filters and views to give you the granular details needed for decision-making.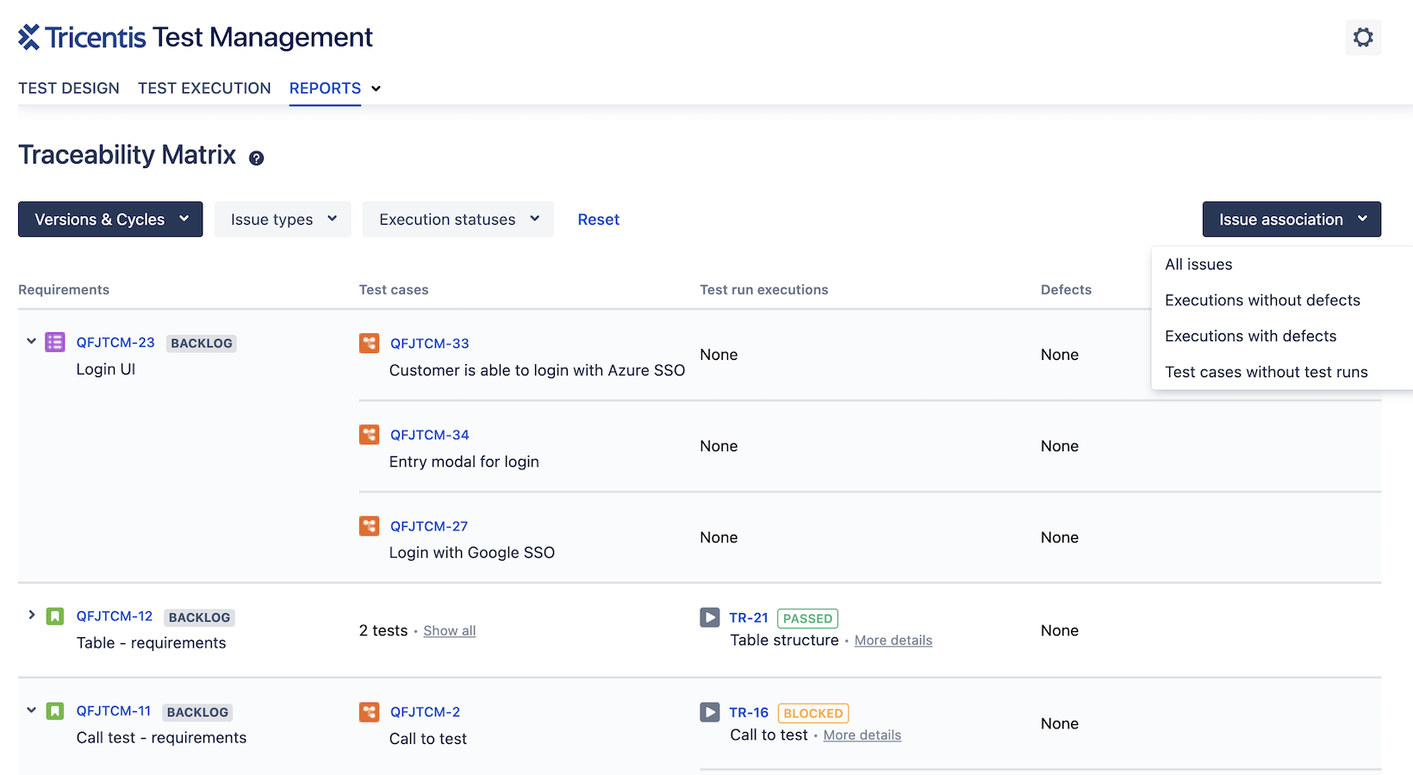 Traceability matrix within Tricentis Test Management for Jira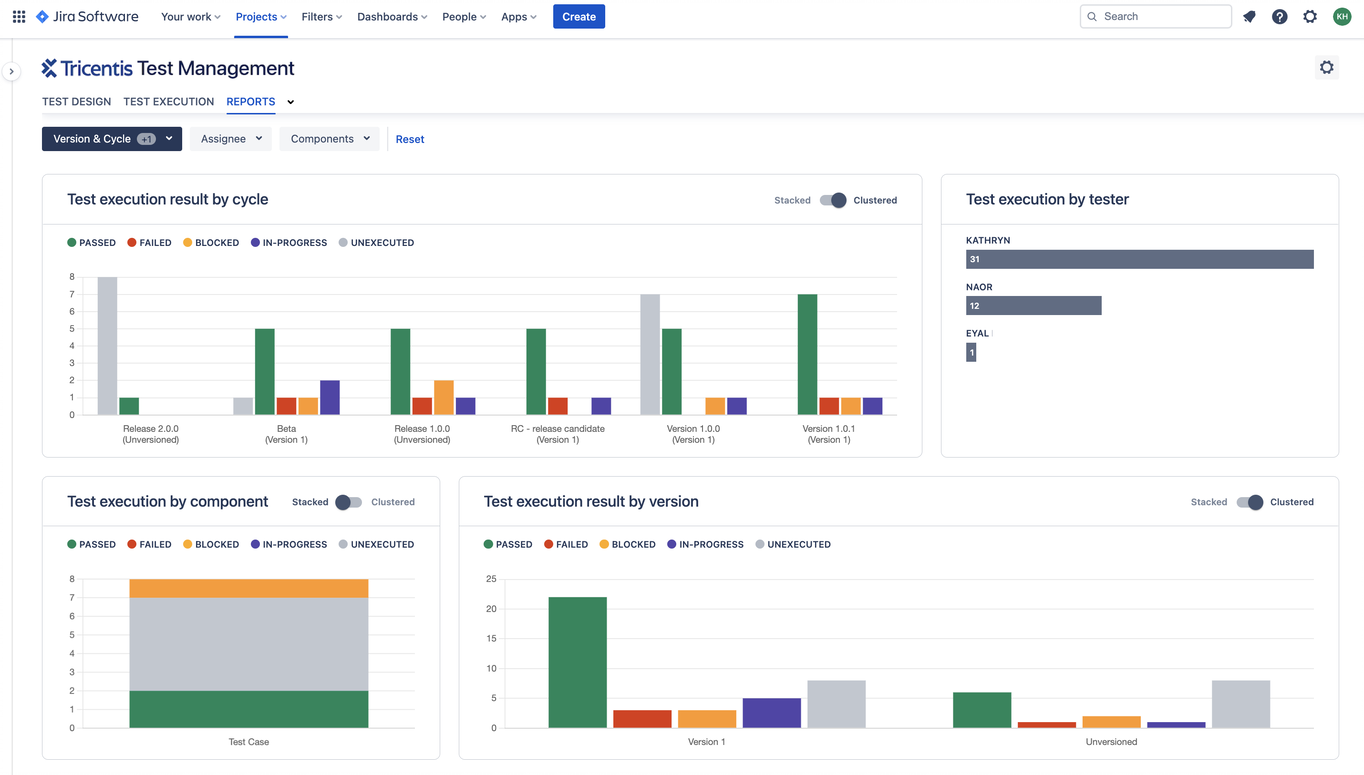 Test summary report within Tricentis Test Management for Jira
Choosing the right test management solution for your team
Between TTM for Jira and qTest, you have two options for implementing test management in your QA and development teams. Which one is right for you?
Teams who need to centralize, share, and report on testing across multiple Jira projects, or who have specialized compliance and audit needs should choose qTest.
Similarly, organizations that want a stronger separation of concerns between their testing operations and Agile planning tool, or that are using solutions other than Jira Cloud, should also choose qTest over any Jira<> extension.
Can't decide between TTM for Jira or qTest? Reach out – our expert team is happy to help.
Looking ahead
In the coming months, we'll be delivering many new capabilities in TTM for Jira. You can look forward to integration with third-party test automation solutions, an expanded API, and tighter integrations with the Tricentis portfolio, starting with Tricentis Testim.
Getting started with Tricentis Test Management for Jira
Checking out Tricentis Test Management for Jira is easy.
Get a 30-day free trial: The fastest way to get started is with a 30-day free trial, available through the Atlassian Marketplace.
See Tricentis Test Management for Jira in action: Join us for a webinar on November 9, when we'll walk through setup, test design, execution, and roadmap ahead for Tricentis Test Management for Jira. If you've got TTM for Jira installed in your Jira Cloud instance, we'll even make it easy for you to follow along.
We're looking forward to meeting you!